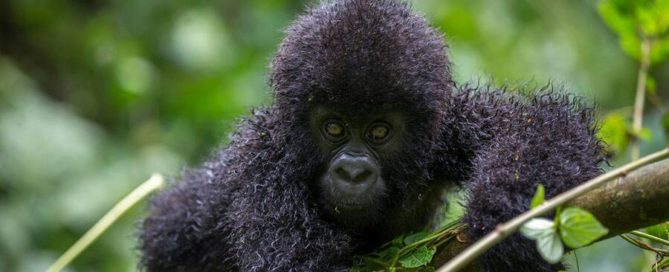 Which people are eligible for gorilla trekking in Uganda? 
Gorilla Tracking Uganda
Which people are eligible for gorilla trekking in Uganda? 
Have you got any questions about "Which people are eligible for gorilla trekking in Uganda?" but just like any other safari activity, Uganda gorilla safaris have regulations that at times limit other people from having a mountain gorilla trekking experience in Uganda's Gorilla safari destinations.
Gorilla trekking is an activity that is referred to as a lifetime experience by many due to the way in which the activity is done. It involves trekking/walking/hiking through the dense tropical forests that rise to an altitude of about 2,607 meters above sea level. 
The terrain, vulnerability to disease by the mountain gorillas and for conservation reasons there is a group of people who are considered inappropriate to trek gorillas. Here is what qualifies any tourist to take a gorilla trekking safari in Uganda
Individuals above the age of 15 – Gorilla Trekking in Uganda
To trek gorillas in Uganda, an individual must be above the age of 15. This is so because children below the age of 15 are referred to as unpredictable and therefore may not be able to follow the rules and regulations that govern the activity.
Their behavior could easily be contrary to what is expected of a trekker and therefore for this reason they are kept away from the jungle. However, a child who is almost 15 can be allowed to trek gorillas if their parents wrote early to the authorities through their tour operator on why they would like their child to trek the day before they are 15.
This can only be allowed when the child is trekking with their parents and they are willing to ensure they have their child in control and will be responsible for their actions. 
Persons with a gorilla permit
Each individual can only be allowed to trek gorillas when they have an Uganda gorilla safari permits. The permit costs US$ 600 for Foreign non-residents, US$ 500 for Foreign residents, and UGX 250,000 for East African residents for a single gorilla permit, as of 2019.
Effective 1st July 2020, Foreign non-residents will require US$ 700 to purchase an Uganda gorilla permit. Foreign residents will require US$ 600 to buy an Uganda gorilla tour permit.
East African Residents will still be able to purchase a gorilla permit. You have to ensure the purchase of your permit as soon as possible since they can be fully booked as early as 6 months prior to the trek. 
Mountain gorillas are endangered as in IUCN Red List and therefore their conservation is important. These giants are very susceptible to human disease and therefore humans who are ill or suffering from colds that are found risky to the gorillas are not allowed to trek.  In case you are not in perfect health, it is recommended to make an early communication with the Uganda Wildlife Authority.
Failure to trek because of a cold does not guarantee a refund however, a procedure can be followed using the Uganda Wildlife Authority refund policy. This only applies to trekkers who come to the trekking point on the day of trekking. 
With the altitude of the gorilla habitat, Yes, an individual should be able to hike through the forest no matter the pace because the group moves according to the pace of the slowest trekker. However, this does not mean that if you can not hike you can't see the gorillas.
You can hire porters and a sedan chair that can be used to carry you till where the gorillas can be found. When you reach the gorillas, you are put down to take pictures and then returned to the trek start point.
Before you plan to set out for your trip, you should be aware and don't mess up with anything. In case you need any more details you can contact Acacia Safaris Uganda.
Uganda/Rwanda gorilla safari packages – Which people are eligible for gorilla trekking in Uganda?

To help you better plan your gorilla trekking safari, here is a list of top gorilla packages in Uganda and Rwanda that you can choose from;
7 days great primates Uganda safari 
14 days Uganda safari Eco-explorer 
Our most popular Uganda Gorilla Safaris, Primate Tour to Bwindi Impenetrable Park, and Mgahinga Gorilla Park offer our Gorilla Safari Uganda clients a great opportunity to go for Mountain Gorilla Trekking. The Most Popular Safari Packages include 3 days Bwindi Uganda Gorilla Trekking Safari and 3 days Mgahinga Gorilla Uganda Safari Tour.
The Uganda Safari are categorized into 3 major categories namely Short safaris, medium safaris, and long safaris. The short safaris range from 1-3 days, the medium safaris range from 4-6 days and the long safaris range from 7 days and beyond.