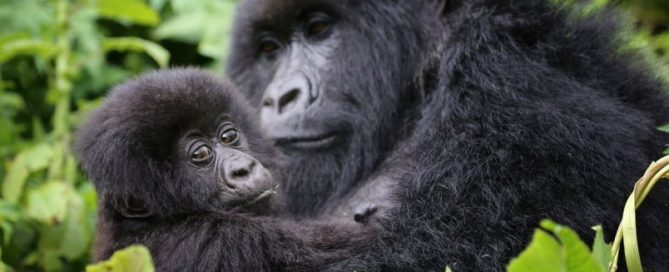 Ruhija Sector of Bwindi Impenetrable National Park – Gorilla Trekking
Gorilla Tracking Uganda
Ruhija Sector of Bwindi Impenetrable National Park – Gorilla Trekking
Ruhija sector is one of the four sectors in Bwindi Impenetrable National Park with habituated mountain gorillas for gorilla trekking in Uganda. The sector is located in the eastern part of Bwindi Forest National Park, between the Buhoma sector and Kibale town to the south making the sector easily accessible from both parts of south and north.
Ruhija sector with its easy accessibility easily connects to Queen Elizabeth National Park famed for tree-climbing lions in the Ishasha sector for wildlife game drives. Lake Bunyonyi, the deepest lake in Uganda is also located a few kilometers away and tourists can have a lot of adventurous activities at the lake.
Bwindi Impenetrable Park is home to over half of the world's only remaining mountain gorillas. The park is situated in southwestern Uganda especially to protect the endangered mountain gorillas.
Ruhija Gorilla trekking sector of Bwindi has 4 habituated gorilla families which are, Bitukura, Mukiza, Kyaguriro, and Oruzogo.
Bitukura gorilla family is led by silverback Ndahura with about 14 individuals in the group. The group has 4 silverbacks and a group that was easily habituated in the fastest time.
Oruzogo gorilla family has about 23 individuals and therefore very large.  The group has 2 silverbacks and twins.
Mukiza gorilla family has 13 members with 1 silverback gorilla, 4 infants, and 8 adults. Silverback Mukiza leads the group. It was formerly part of the Kyaguliro group.
Kyaguriro gorilla group has 15 individuals with 2 silverbacks. This group was introduced to gorilla trekking after a habituation process where the group members got used to the presence of human beings.
All the gorilla groups in the Ruhija sector are well habituated for trekking. However, apart from Uganda gorilla safaris in the sector, the area is also good for bird watching with several bird endemics in the region. Tourists can also undertake a primate walk in the park to spot out primates like the black and white colobus monkeys.
When it comes to accommodation, the Ruhija sector of Bwindi avails all kinds of lodging facilities ranging from luxury, mid-range to budget.
How many people are allowed to trek a gorilla group? – Ruhija Sector of Bwindi Impenetrable National Park – Gorilla Trekking
Every day, a total of 8 tourists are allocated to trek each of the 19 habituated gorilla families in Uganda. Trekking starts at 8:00 am with a briefing on the guidelines and allocation of a specific gorilla family to trek. Every 8 individuals trek along with at least two armed rangers for protection and keep you safe.
Gorilla trekking in Uganda takes an unpredictable time as the gorillas keep moving through the forest. You could see the gorillas in 30 minutes or after several hours. After meeting an allocated gorilla family a maximum of 1 hour is spent watching the family interact. It is an amazing experience and you are allowed to take several pictures and videos using nonflash photography cameras.
Gorilla Trekking in Bwindi Impenetrable National Park
Bwindi Impenetrable National Park is the largest single gorilla habitat, unlike Virunga massif that is shared by 3 national parks. Being the largest gorilla park, there are 4 different gorilla trekking sectors or trailheads where gorilla trekking starts from.
Each of these 4 gorilla tracking sectors in Bwindi Impenetrable National Park has different gorilla families that tourists trek while on Uganda gorilla tours. You can decide on which sector to have your short gorilla trekking safari but in most cases, it depends on the availability of the permits in a specific sector. However, a specific gorilla group is allocated in the morning of the trek depending on where the gorillas spent their night as compared to the trekkers hiking ability.
The best time of the year for Uganda gorilla trekking safaris in Bwindi Impenetrable National Park is during the dry season months of June –August and December –February which makes it easy to go through the trails.
Ruhija sector is a great place for gorilla trekking and good for tourists who are connecting from Queen Elizabeth National Park. For any Uganda gorilla tour, we can tailor it to Ruhija or any other sector of Bwindi. We also plan gorilla tours in Rwanda's Volcanoes National Park for a trek of one of the habituated gorilla groups in the park.
You May Also Be Interested In The Following Packages – Book Uganda Gorilla Safari Packages at a Discount
3 Day Uganda gorilla trekking safari, – Bwindi Impenetrable National Park

3 Days Uganda Gorilla Trekking Safari is done in Rushaga Bwindi Impenetrable National Park which is located in southwestern Uganda a magnificent verdant swathe across the steep ridges of the Albertine Rift Valley.
This ancient rain-forest is one of the few in Africa to have flourished and home to half of the world's endangered population of mountain gorillas.
Looking into the expressive brown eyes of these giants is surely the most exciting and poignant wildlife encounter Uganda has to offer! Apart from the gorilla trekking Tour, the park boasts of 90 mammal species, including 11 primates and prominent bird species.
It is a treasure chest of flora and fauna with ten gorilla groups currently available to be visited by only eight persons per group on a daily basis. However, strict rules have to be followed to prevent behavioral disturbances and transmission of diseases.
3 Days Bwindi Gorilla Safari Uganda Tour – Mountain Gorillas Endangered

3 Days Bwindi Gorilla Safari Uganda Tour takes you on an Uganda gorilla tour to Uganda gorilla safaris tour destination for gorilla trekking tours while on your Uganda safaris to Bwindi Impenetrable forest park.
3 Days Gorilla Safari Uganda Bwindi Impenetrable Park Tour, Uganda gorilla tour, gorilla safaris, gorilla trekking tours, gorilla safaris, Uganda safaris, gorilla tracking, Gorilla forest camp, where to visit in Africa, attractions in Uganda. Find the gorillas in the marvelous primates.
An encounter with an earth-shaking 350-pound silverback or baby gorilla is an unforgettable experience! view the long-horned Ankole cattle papyrus acacia woodlands and terraced landscape of Kigezi high lands on your way to Bwindi impenetrable national park.