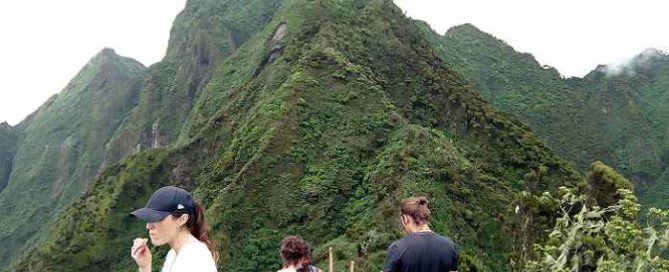 Mgahinga Gorilla trekking and hiking safaris
Gorilla Tracking Uganda
Mgahinga Gorilla trekking and hiking safaris in Uganda

Mgahinga gorilla trekking and hiking safaris Uganda in Mgahinga Gorilla National Park is one of the most beautiful national parks of Uganda deriving its name from the fact that its habitat to the elusive mountain gorillas. This makes it a good Uganda safari destination for gorilla trekking, however, it is also a good hiking destination.
Mgahinga raises an altitude ranging from 2,227 to 4,127 m above sea level and is comprised of three dormant volcanoes which are Mount Sabyinyo, Mount Muhabura, and Mount Gahinga. Mount Sabyinyo raises to an altitude of 3,645 m above sea level, Mount Muhabura is at 4,127 m and Mount Gahinga raises to 3,474 m above sea level.
The park is located in southwestern Uganda created in 1991 and covers an area of 33.9 square kilometers making it the smallest park in Uganda and yet the best-kept secret when it comes to diversity.  Mgahinga Park is part of the chain of the Virunga Mountains and a part of the Nile River watershed area. It is contiguous with the Volcanoes National Park of Rwanda and Virunga National Park of Congo.
Hiking safaris Uganda in Mgahinga National Park
Hiking is one of the popular activities undertaken on the volcanoes of Mgahinga National Park. Walking or hiking through the trails of Mgahinga is undoubtedly the best experience and perfect way to explore the beauty within this treasure. A walking trip or nature walk is an opportunity to help travelers appreciate the beauty in the park, see several wildlife, and listen to several sweet sounds of the birds in the park.
There are several trails that are chosen depending on the hiker's interests and these include the Sabyinyo gorge walk, Batwa trail, border trail, and a hike to the peak of extinct volcanoes either mount Sabyinyo, mount Gahinga or mount Muhabura. A hike to any of the volcanoes will indeed offer a great experience with great views of the neighboring Congo and Rwanda.
Gorilla trekking in Mgahinga Gorilla National Park
Many travelers on Uganda gorilla safaris usually prefer to trek gorillas in Bwindi Impenetrable National Park which is home to almost half of the world's mountain gorillas. Mgahinga Park is, however, one of the best places to trek mountain gorillas in Uganda and this is why;
Tracking the Nyakagezi gorilla group is amazing with the fact that this group is big and social compared to many other habituated gorilla groups. The family is comprised of three silverbacks, 2 adult females, 2 black backs, and 2 infants.
The Nyakagezi family is led by Silverback Mark assisted by Mafia, Ndungutse, and Bugingo. Rukundo is the sole Black back, Nshuti an adult female plus two babies namely Nshuti baby and Fred. Silverback Bugingo was formerly the lead silverback before Mark took over, however, the former is happily playing the role of the "senior" silverback in the group. Such a group is rare to find since in many families big groups separate to have dominance and 2 silverbacks can't lead the same group.
Nyakagezi family is one of the easiest to track given the fact that it prefers a narrow home range for feeding, resting, relaxing, and recreation. In case you are not ready to hike for a long distance,  Mgahinga is a better option since they can be found after a short time of trekker rather than those of Bwindi that may require a longer time to trek.
Mgahinga Gorilla National Park is closer to Rwanda and therefore easier to return to Rwanda after the trek. In case you are in Rwanda where the gorilla trekking permit is at US$ 1500 and would love to trek gorillas at a cheaper price you can opt to trek in Mgahinga at just USD 600. It's about a 4 hours' drive from Kigali to Mgahinga and therefore you can return after the trek.
 Other Activities in Mgahinga Gorilla National Park – hiking safaris Uganda

Mgahinga isn't only a gorilla trekking and hiking destination but there are also other activities like golden monkey trekking and birding.
It's only in Mgahinga Gorilla National Park where mountain gorillas and golden monkeys co-exist therefore the slogan where silver meets gold. In case you would love to see these beauties then it's good to choose trekking golden monkeys as well. There is no other place where this is possible in Uganda.
The park is a very good Uganda birding safari destination with over 115 bird species. Some of the bird species here include the Albertine Rift endemics. The white-necked raven, black kite, Pin-tailed whydah, double-collared sunbird, paradise flycatcher, and many more are some of the bird species that can be spotted in the park.
In conclusion, visit Mgahinga Gorilla National Park for gorilla trekking, hiking safaris, nature walks, birding, golden monkey trekking, Mgahinga Gorilla trekking, and hiking safaris and have experiences within this golden gem.
You May Be Interested In The Following East Africa Packages. Book at a 15% Discount
Our most popular Uganda Gorilla Safaris to Bwindi Impenetrable Park and Mgahinga Gorilla Park offer our Gorilla Safari Uganda clients a great opportunity to go for Mountain Gorilla Trekking. The Most Popular Safari Packages include 3 days Bwindi Uganda Gorilla Trekking Safari and 3 days Mgahinga Gorilla Uganda Safari Tour. The Uganda Safari are categorized into 3 major categories namely Short safaris, medium safaris, and long safaris. The short safaris range from 1-3 days, the medium safaris range from 4-6 days and the long safaris range from 7 days and beyond.
The 3-Days Gorilla Trekking Safari Bwindi Uganda Tour takes you to the rolling hills and Impenetrable forests of Southwestern Uganda that are inhabited by the very rare Mountain Gorillas.
The 3-days Gorilla Trekking Safari Bwindi Uganda Tour takes off from Kampala and makes two stopovers at the Equator and Igongo cultural center and then finally Bwindi Impenetrable national park. The 3 days Gorilla Safari Uganda Tour is your Ideal Gorilla tracking experience.
Bwindi Impenetrable National Park habitats 19 mountain gorilla families accounting for over 51% of the world's total number of the only remaining critically endangered mountain gorillas in the world.
Included in this 3 days Uganda gorilla safari to Bwindi impenetrable forest national park is the gorilla trekking permit, transportation fees, guide fees, meals, and accommodation for all the days you going to be on this amazing Uganda gorilla tour. Read More Here
4 Days Uganda Gorilla Safari to Bwindi Impenetrable National Park
The 4 Days Uganda Gorilla Safari takes you to Bwindi Impenetrable National Park which is has located in southwestern Uganda with a magnificent verdant swathe across the steep ridges of the Albertine Rift Valley. This ancient rainforest is one of the few in Africa to have flourished and a home to half of the world's endangered population of mountain gorillas.
Apart from Mountain gorilla trekking, the park boasts of 90 mammal species, including 11 primates and prominent bird species. It is a treasure chest of flora and fauna with four gorilla groups currently available to be visited by only six persons per group on a daily basis. However, strict rules have to be followed to prevent behavioral disturbances and transmission of diseases. View Details Here