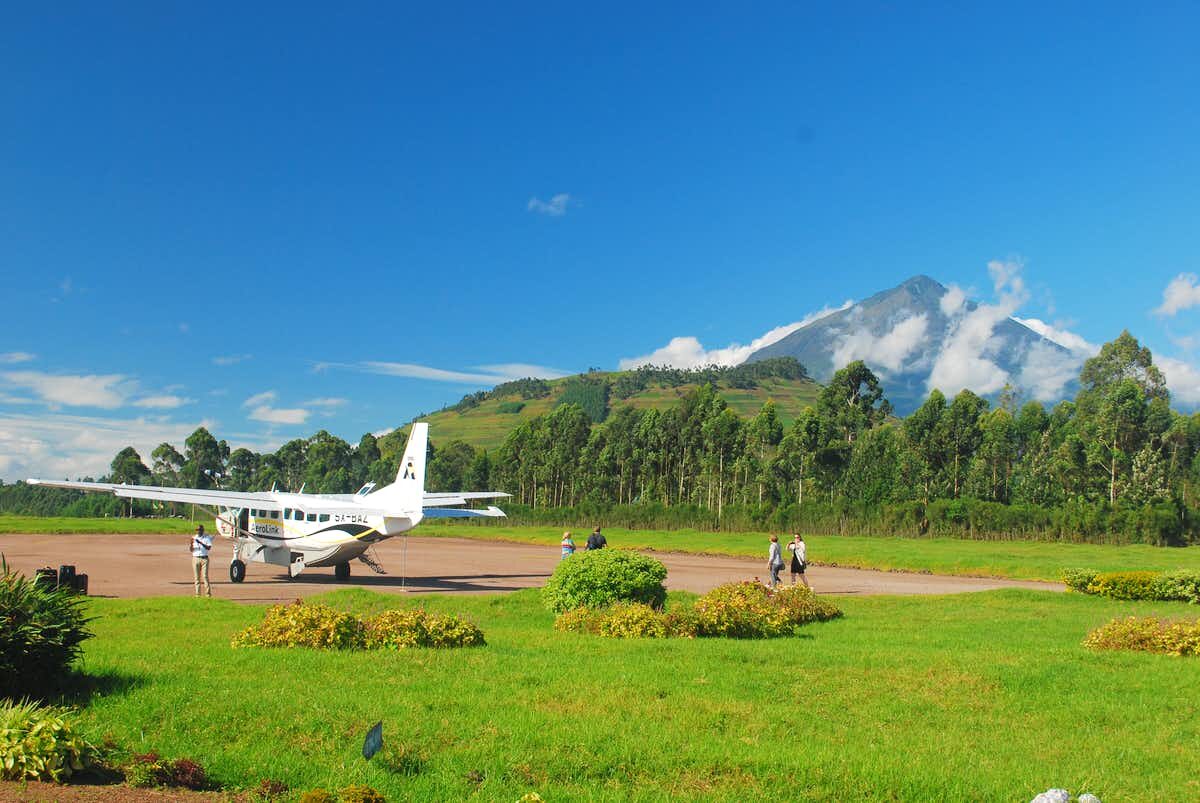 How to go gorilla trekking in Uganda – Road and Air Transport
Gorilla Tracking Uganda
How to go gorilla trekking in Uganda – Road and Air Transport
When planning to go gorilla trekking in Uganda, how to get to the park or means of transport. Planning how to go gorilla trekking in Uganda either by road or air transport helps to perfectly decide on the cost of your entire trip.
Uganda is home to more than half of the world's only mountain gorillas hosted in 2 habitats which are Bwindi Impenetrable National Park and Mgahinga Gorilla National Park all in western Uganda.
To visit either of the parks here is how to go gorilla trekking in Uganda's two parks any time of the year;
How to get to Bwindi Impenetrable National Park by Road or Air
Choosing how to go gorilla trekking in Bwindi Impenetrable National Park by road or air is upon the traveler depending on what they prefer.
Getting to Bwindi by Road: By road, getting to Bwindi depends on where an individual is coming from. Here are how many hours and road distances from the major or popular safari start points to the park.
From Entebbe International Airport which is the only international airport in the country, it is about 514km to the park taking a drive time of about 10h 5min via the Kampala-Masaka-Mbarara-Kabale route.
Kampala which is Uganda's capital it takes 9h 50min on a 521km road drive to get to Bwindi Impenetrable National Park.
Many tours start from Kampala since it's the capital of the country and the route follows the same as that taken from those starting their trips from Entebbe.
From Mbarara it is about 206km via the Kabale-Mbarara road which is the fastest route and via Mbarara-Kasese road which is about 253km on a 5h 36min road drive.
Queen Elizabeth National Park is the closest wildlife safari park in the region and tourists visiting the park can connect to Bwindi by road. It is just about a 2-3 hours drive to the park.
How to get to Bwindi by Air: There are a few charter flight companies that organize flights to Bwindi but offer these effectively when booked.
Close to Bwindi, there are three airfields that serve the park and these are namely Kayonza and Kihihi airfields that are very suitable for travelers taking the Uganda gorilla safari to the northern sector.
Nyakabande airfield in Kisoro is suitable for those going to trek in the southern sectors.
Entebbe to Kihiihi airfield takes about 1h 10min by Aerolink Uganda. From any of the airstrips, the traveler is transferred to their allocated sector to a booked lodge.
The transfer from the airfield to lodge is by safari vehicle and vice versa on return.
Flights can be from Entebbe International Airport or in Kampala at Kajjansi Airstrip.
How to get to Mgahinga Gorilla National Park – How to go gorilla trekking in Uganda – Road and Air Transport

Getting to Mgahinga can either be by road or air. Mgahinga Gorilla National Park is 510km from Kampala; the most commonly used route passes through Kabale and Kisoro.
The 434km journey from Kampala to Kabale can be completed in 8 hours on good tarmac. It is then a further 76km to Kisoro town on a mountainous tarmac road with steep ascents and descents.
An attractive, alternative route leaves the main road at Kabale and follows the shoreline of the superbly scenic Lake Bunyonyi to rejoin the Kabale-Kisoro main road at its halfway point at Muko.
Mgahinga can also be reached by air using the daily flights from Entebbe International Airport to Kisoro airfield. Connect by road from the airfield to the park.
Ntebeko, the main entrance to Mgahinga Gorilla National Park is 14km from Kisoro at the end of a dirt road with some steep and rocky sections.
The best time of the year for Uganda gorilla trekking safaris is during the dry season months of June –August, and December –February which makes it easy to go through the trails.
Gorilla trekking in Uganda can also be tailored with other Uganda wildlife safaris, chimpanzee trekking, or birding.
Within East Africa, you can also customize a combined tour with a Rwanda tour, Kenya safari, or Tanzania wildlife safari.
Here are some of the recommended Boat safaris in Uganda itineraries that tourists can choose when going on the East Africa safari.
3 days Volcanoes park Rwanda gorilla trekking safari
10 Days Rwanda wildlife safaris tours 
14 Days gorilla safari Rwanda and wildlife tour 
3 Days Murchison Falls Safari Uganda Tour
3 Days Gorilla Safari Uganda Bwindi Impenetrable Park Tour
3 Day Queen Elizabeth National Park Safari
4 Days Kidepo Valley National Park Uganda Safari
3 Day Jinja City Tour Uganda Safari
8 Days Uganda Wildlife Safaris Tour
9 Day Uganda Wildlife Safaris Tour
14 Day Uganda Safari Eco-explorer
15 Days Uganda Wildlife Safari Kigali City Rwanda Tour