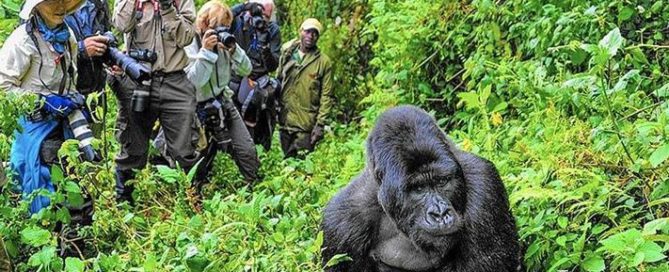 5 Things to consider when planning Uganda gorilla tracking safari to Uganda 
Gorilla Tracking Uganda
5 Things to consider when planning Uganda gorilla tracking safari to Uganda

Planning Uganda gorilla tracking safari requires caution due to the few changes that were made by the Uganda Wildlife Authority by the end of the last year. Before booking any trip to Uganda for gorilla trekking either in Bwindi Impenetrable National Park and Mgahinga Gorilla National Park, it is important to be aware of this information.
Acacia Safaris Uganda takes an initiative to keep you aware of all the relevant information and here is what you need to carefully understand before coming to a final decision of taking a gorilla tour in Uganda;
What to Know before Planning Uganda gorilla tracking safari
How much is an Uganda gorilla permit 
Anyone planning to trek gorillas from 1st July 2020 onwards, should be ready to pay US$ 700 per permit for foreign nonresidents. Foreign residents will be required to pay US$ 600 per permit. East African citizens will continue to pay Ugandan Shillings 250,000 per permit.
A gorilla trekking permit is a document issued by the responsible authorities in Uganda specifically by the Uganda Wildlife Authority as a permit to spend one hour with the mountain gorillas. A gorilla permit is the only way to have Uganda gorilla safaris and it is given to individuals age 15 years and above.
This change in the gorilla permit price should be considered before you start planning your trip. Before the 1st of July 2020, permits will still be costing US$ 600 for foreign nonresidents and US$ 500 for foreign residents.
      2. Best gorilla trekking packages.
Gorilla packages are in many cases prior customized and these range from short to long gorilla safaris. The number of days is based on what offers the best experience, however, though prior customized, you can still choose how you want your trip to be planned. Here we give you the best and well-planned trips to choose from or customize to suit your desired trip.
Here are some of the top Uganda gorilla safari packages;
3 days Uganda gorilla trekking safari
3 days Bwindi gorilla trekking safari
4 days Uganda gorilla safari tour 
           3. Gorilla habituation experience
Uganda is privileged to be the only country in the world where you can have a gorilla habituation experience. Mountain gorilla habituation is the process of getting wild gorillas used to the presence of humans.
Unlike gorilla trekking where you spend a maximum of 1 hour in the presence of the mountain gorillas, with habituation, you spend 4 hours along with gorilla doctors and researchers learning about these elusive giants.
A mountain gorilla habituation permit costs US$ 1500. Gorilla habituation is a much better way of learning about gorillas than trekking. If you can afford the cost, it's good for it.
           4. Where to go gorilla tracking in Uganda
For gorilla safaris, Uganda is surely the best option, it still remains cheaper than neighboring Rwanda and more peaceful than the Democratic Republic of Congo.
It's also only in Uganda where there are two national parks that inhabit mountain gorillas and these are Bwindi forest and Mgahinga Gorilla National Park in the Virunga massif. Many travelers wonder which of the two parks is better for trekking.
Both parks have an advantage of trekking in them, for Bwindi forest, the advantage is that there several gorilla families that can be trekked, and therefore many feel that there's a great assurance of seeing the gorillas.
If you love bird watching, then Bwindi is also a great hub for special bird species including 23 of the 24 Albertine rift endemics.
Mgahinga Gorilla National Park has one of the special and unique gorilla families known as the Nyakagezi gorilla group that could be great to trek.
Mgahinga is only the only place in Uganda where silverback gorillas co-exist with the golden monkeys and therefore the slogan, "where gold meets silver".
If you love monkeys, this is the best place to see these beautiful golden monkeys since they are endemic to the Virunga Mountains and cannot be seen anywhere else.
         5. When to gorilla trekking in Uganda
The best time of the year for Uganda gorilla trekking safaris in both Bwindi Impenetrable National Park and Mgahinga Gorilla National Park is during the dry season months of June –August and December –February which makes it easy to go through the trails.
When trails are drier, gorilla trekking is easy since trails are passable and the park is accessible. It is best advisable to track gorillas during the dry season since it's easy to trek gorillas as well as view wildlife.
However, the dry season is actually the peak or high season therefore early booking is recommendable since permits can easily get fully booked as well as accommodation.
When you are planning to go gorilla tracking in Uganda, choose to consider the above points on planning the best package. You can combine your gorilla safari with Uganda wildlife safari to the other parks. You can also tailor the trip with a Rwanda tour or safari to Kenya.
You May Be Interested In The Following East Africa Packages. Book at a 15% Discount
The 3-Days Gorilla Trekking Safari Bwindi Uganda Tour takes you to the rolling hills and Impenetrable forests of Southwestern Uganda that are inhabited by the very rare Mountain Gorillas.
The 3-days Gorilla Trekking Safari Bwindi Uganda Tour takes off from Kampala and makes two stopovers at the Equator and Igongo cultural center and then finally Bwindi Impenetrable national park. The 3 days Gorilla Safari Uganda Tour is your Ideal Gorilla tracking experience.
Bwindi Impenetrable National Park habitats 19 mountain gorilla families accounting for over 51% of the world's total number of the only remaining critically endangered mountain gorillas in the world.
Included in this 3 days Uganda gorilla safari to Bwindi impenetrable national park are the gorilla trekking permit, transportation fees, guide fees, meals, and accommodation for all the days you going to be on this amazing Uganda gorilla tour. Read More Here
4 Days Uganda Gorilla Safari to Bwindi Impenetrable National Park
The 4 Days Uganda Gorilla Safari takes you to Bwindi Impenetrable National Park which is has located in southwestern Uganda with a magnificent verdant swathe across the steep ridges of the Albertine Rift Valley. This ancient rainforest is one of the few in Africa to have flourished and a home to half of the world's endangered population of mountain gorillas.
Apart from Mountain gorilla trekking, the park boasts of 90 mammal species, including 11 primates and prominent bird species. It is a treasure chest of flora and fauna with four gorilla groups currently available to be visited by only six persons per group on a daily basis. However, strict rules have to be followed to prevent behavioral disturbances and transmission of diseases. View Details Here