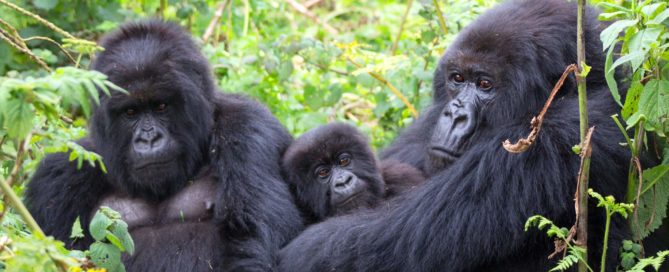 Rushaga Sector Bwindi Impenetrable National Park
Gorilla Tracking Uganda
Rushaga Sector Bwindi Impenetrable National Park
Rushaga sector is one of the four gorilla trekking sectors of the Bwindi Impenetrable National Park. This is the largest gorilla habitat hosting about half of the world's remaining mountain gorillas in the hills of southwestern Uganda.
Rushaga sector is in the southern part of Bwindi and the only sector where tourists can have either Uganda gorilla trekking safaris or gorilla habituation experience.
Rushaga sector has 5 habituated gorilla families that tourists can trek on their safaris and these are;
Kahunjye gorilla family with 13 members. Silverback Gwigi leads the group.
The Busingye gorilla family was a splinter group from the Kahunjye group. There are 9 individuals in the group with only 1 silverback.
Nshonji gorilla group is very big and has about 25 gorillas. It is named after the river in which they were first seen.
Mishaya gorilla group split from the Nshonji group led by silverback Mishaya.
Bweza gorilla family has 9 members and also split from the Nshonji group.
Each day tourists take a trek to the Bwindi Impenetrable National Park sector of Rushaga to have the golden memory experience of sharing a gorilla habitat for a maximum of 1 hour.
To trek gorillas in this sector, tourists can request to be allocated this sector during the booking and this can be done if there are available permits.
The sector can also be allocated if it is where there are available permits for a specific trekking date. However, the fate of where one trek is dependent on the availability of permits and interests during the time of booking.
This is why early booking is always recommended since one can choose where they desire to trek. For that undertaking gorilla habituation, it is definitely the Rushaga sector since it is the only sector with the activity.
Gorilla Habituation in Rushaga sector Bwindi
There's no such an exhilarating way of learning about the elusive mountain gorillas than with a Gorilla habituation experience. It is an opportunity to meet a group of wild gorillas that haven't been fully habituated and therefore behave like they would before getting familiar with humans. This is a better way of learning the lifestyle of the mountain gorillas within their natural habitat.
Gorilla Habituation Experience in Uganda is a gorilla safari activity in the Rushaga sector of Bwindi Impenetrable National Park.
Gorilla habituation can literally be defined as the process of getting mountain gorillas familiar with the presence of human beings by spending time around them till they are fully not bothered about the presence of humans (habituated) and can go on with their daily lives. A maximum of 4 people is allowed to go for a gorilla habituation experience.
Bikyingi gorilla group is one of the gorilla groups where tourists can have a habituation experience. The group has 21 individuals with 1 silverback, 2 sub-adults, 9 adult females and 9 infant gorillas.  Gorilla habituation is also experienced with the Bushasho gorilla group.
A gorilla habituation process in Uganda may take about 2-3 years for the gorillas to get fully familiar with the presence of human beings.
To get to this stage, researchers and gorilla doctors visit the gorillas every day to learn more about the individual gorillas and behaviors.
With some good time, these gorillas get used to the presence of researchers and they can even get closer to them. After a study of each gorilla individual, they then receive a name.
Following this period, a mock exercise is carried out where several people including scientists, journalists, and others start visiting the gorilla group.
If the gorillas pass the mock exercise then they are referred to as fully habituated and are opened to the public.
The Rushaga sector of Bwindi Impenetrable National Park is indeed a great sector for trekking and habituation. For all of the four gorilla safari parks visited on Uganda gorilla safaris, gorilla tours Rwanda, or gorilla trekking in Congo mountain gorillas lives in families.
These families are habituated and safe for gorilla trekking making it an ultimate primate tracking tour activity. For more wildlife interactions, wildlife trips especially for Kenya safaris or Tanzania safaris are recommended.
You May Also Be Interested In The Following Packages – Book Uganda Gorilla Safari Packages at a Discount
3 Day Uganda gorilla trekking safari, – Bwindi Impenetrable National Park

3 Days Uganda Gorilla Trekking Safari is done in Rushaga Bwindi Impenetrable National Park which is located in southwestern Uganda a magnificent verdant swathe across the steep ridges of the Albertine Rift Valley.
This ancient rain-forest is one of the few in Africa to have flourished and home to half of the world's endangered population of mountain gorillas.
Looking into the expressive brown eyes of these giants is surely the most exciting and poignant wildlife encounter Uganda has to offer! Apart from the gorilla trekking Tour, the park boasts of 90 mammal species, including 11 primates and prominent bird species.
It is a treasure chest of flora and fauna with ten gorilla groups currently available to be visited by only eight persons per group on a daily basis. However, strict rules have to be followed to prevent behavioral disturbances and transmission of diseases.
3 Days Bwindi Gorilla Safari Uganda Tour – Mountain Gorillas Endangered

3 Days Bwindi Gorilla Safari Uganda Tour takes you on an Uganda gorilla tour to Uganda gorilla safaris tour destination for gorilla trekking tours while on your Uganda safaris to Bwindi Impenetrable forest park.
3 Days Gorilla Safari Uganda Bwindi Impenetrable Park Tour, Uganda gorilla tour, gorilla safaris, gorilla trekking tours, gorilla safaris, Uganda safaris, gorilla tracking, Gorilla forest camp, where to visit in Africa, attractions in Uganda. Find the gorillas in the marvelous primates.
An encounter with an earth-shaking 350-pound silverback or baby gorilla is an unforgettable experience! view the long-horned Ankole cattle papyrus acacia woodlands and terraced landscape of Kigezi high lands on your way to Bwindi impenetrable national park.