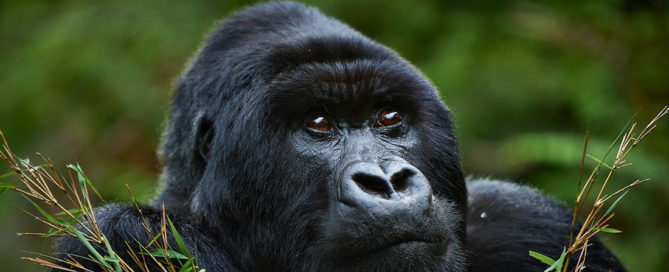 Bwindi Impenetrable Forest National Park
Steven
Bwindi Impenetrable Forest National Park
Bwindi Impenetrable Forest National Park is situated in southwestern Uganda in the dense rainforest of Bwindi. This area was officially gazette d in 1991 as a national park and was declared a UNESCO world heritage site in 1994.
Mountain gorilla tracking is Uganda's foremost tourist attraction and one of the wolds most remarkable encounters because the mountain gorillas are both rare and endangered animals. There are only 800 individuals in the world,  with half the population residing in Uganda and the others in Virunga national park( the democratic republic of congo) and Rwanda.
Despite the fact that Bwindi Impenetrable forest national park is famous for Mountain Gorilla tracking, there are several other activities and sites to see while at the park. The forest trails lead to the scenic waterfalls and rift valley points, tourists are also given the opportunity to visit the Batwa people(pygmy) and Bakiga people living beside the forest.
Bwindi Impenetrable forest is also the ideal Birders destination because the forest inhibits over 350 species with 14 not recorded in any other national park in Uganda. These birds include the African green pigeon, African harrier hawk, Cinnamon chested bee-eater, Crowned hornbill and several other bird species.
The animals living in this park include the Mountain Gorillas, Chimpanzees, several monkey species such as the black and white colobus monkey, the African Elephant and various Antelope types. While at the park, you can take part in various activities such as Mountain Gorilla tracking, cycling along the forest trail, bird watching, nature walks, and community walks.
During the gorilla tracking, you track down one of the fifteen gorilla groups and spend an hour observing the Gorillas in their nests and their way of life. For the bird watchers,  there are several trails to watch birds but the most recommended trail is the river Ivi trail between Buhoma and Nkuringo where you will be able to see several birds such as the localized Green broadbill.
During the nature walks, you are given a chance to explore the very relaxing forest situated in Bwindi. The trail climbs to the summit of Rukubira hill for seraphic views of  Bwindi forest and the Virunga volcanoes. Not to forget, the thrilling and mind-blowing community walks, on this adventure, you will get to learn about different indigenous people such as the Batwa and the Bakiga people.
To get to this park, you can either go by road where you will use Masaka road towards southwestern Uganda or you can go by air. When going by air, the travelers will fly from Kajjansi Airfield to Kisoro with prior arranged transportation for park transfers.
The best time to visit these exciting Mountain Gorillas is between December and February because, during this time, the forest trails are drier and less slippery but the park can be visited at any time throughout the year because it is abundant with wildlife throughout the year.
Where to Stay in Bwindi impenetrable forest national park
Bwindi impenetrable forest national park is definitely the ideal park to visit on vacation because there are several accommodation options from luxury to midrange to budget lodges. These include Gorilla safari lodge, Gorilla valley lodge, The Crested  Crane Bwindi hotel, Rushaga Gorilla Camp, Bwindi community guest house, Bwindi cultural lodge, Karungi Camp, Ruhija gorilla lodge, Bwindi forest lodge, Nkuringo Bwindi gorilla lodge, Bwindi forest farm and campsite, Bwindi Backpackers Lodge, Bwindi guest house, Trackers safari lodge, Ferraz motel Kanungu, Gorilla closeup lodge, Nshongi forest camp and several other lodges.
In conclusion, Bwindi Impenetrable forest national park is the ideal park to go to, if you desire adventure and want to get the most out of Uganda. This is because the  route to the park exposes you to a variety of vegetation types, wildlife and cultural communities.
Uganda safari, trips & tours from Uganda gorilla trekking tours to exciting game drives in the most visited Uganda Safari Destinations that will leave you wanting for more. The perfect Uganda safaris for you and your budget. Uganda is considered as the Pearl of Africa has a lot to offer to the world in terms of safari adventures. Besides, Uganda has such a wealth of attractions that a single visit will not be enough to discover all its wonders. It has 10 National parks namely: Murchison fall NP, Kidepo Valley NP, Queen Elizabeth NP, Mgahinga Gorilla National Park, Lake Mburo National Park, Semuliki National Park, Rwenzori Mountains NP, Kibale Forest NP, Bwindi impenetrable NP, Mt.Elgon NP. Each of these offering magnificent and unique fauna and flora, which make visitors always remember memorable moments in the Pearl of Africa.
Our most popular Uganda Gorilla Safaris to Bwindi Impenetrable Park and Mgahinga Gorilla Park offer our Gorilla Safari Uganda clients a great opportunity to go for Mountain Gorilla Trekking. The Most Popular Safari Packages include 3 days Bwindi Uganda Gorilla Trekking Safari and 3 days Mgahinga Gorilla Uganda Safari Tour. The Uganda Safari are categorized into 3 major categories namely Short safaris, medium safaris, and long safaris. The short safaris range from 1-3 days, the medium safaris range from 4-6 days and the long safaris range from 7 days and beyond.