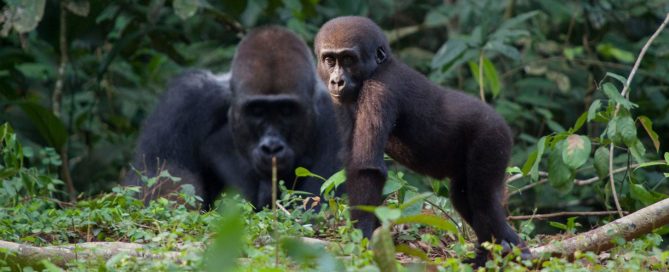 Best places to trek mountain gorillas in Africa 
Gorilla Tracking Uganda
Best places to trek mountain gorillas in Africa 
Mountain Gorillas in Africa (Gorilla beringei beringei) is a subspecies of the eastern gorilla found in the tropical forests of East and Central Africa and that's where the best places to trek mountain gorillas in Africa are.
Mountain gorillas are known not to survive in zoos and therefore can be seen in their natural habitats in Uganda, Rwanda, and the Democratic Republic of Congo.
The only way of seeing these gentle giants is by undertaking an Uganda gorilla trekking safari, gorilla trekking tour in Rwanda, or Congo gorilla trekking safari.
There are four national parks in these three countries where mountain gorillas survive and can be trekked in the whole of Africa and the best places to trek them are;
Bwindi Impenetrable National Park – Mountain Gorillas in Africa

Bwindi Impenetrable Forest National Park is located in southwestern Uganda. The park is part of the Impenetrable Bwindi Forest and is located along the Congo border next to Virunga National Park and on the edge of the western Rift Valley. The jungle forests cover 331 square kilometers and contain both montane and lowland forest and are accessible only on foot.
Bwindi Impenetrable National Park is home to almost 480 mountain gorillas that is almost half of the world's remaining mountain gorillas. About 19 gorilla families are fully habituated and can be trekked on an Uganda gorilla safari. Minimum age of 15 is allowed to trek mountain gorillas in Bwindi and 8 people trek a single gorilla family.
Volcanoes National Park – Mountain Gorillas in Africa

Volcanoes National Park well known as Parc National des Volcans is located in the north-western province of Rwanda in a small town known as Musanze. The park harbors the endangered Mountain Gorillas of Rwanda that is always available for tourists who would love to carry out gorilla tracking tours in Rwanda. Volcanoes National Park borders Congo's Virunga National Park and Mgahinga Gorilla National Park in south-western Uganda.
Volcanoes National Park has several habituated mountain gorillas and is known to be easier to have trekked than the Bwindi gorilla population. Mountain gorillas of Rwanda are known to move for shorter distances and therefore this makes them easier to trek than those of Bwindi that move for longer distances and make trekking difficult.
Mgahinga Gorilla National Park
Mgahinga Gorilla National Park is Uganda's smallest national park and home to mountain gorillas with 1 habituated gorilla family known as the Nyakagezi gorilla group. The park is located in Southwestern Uganda. Tracking the Nyakagezi gorilla group is amazing with the fact that this group is big and social compared to many other habituated gorilla groups.
The above national parks are the top mountain gorilla trekking spots in Africa. Virunga National Park in the Democratic Republic of Congo is also home to Mountain gorillas, however,  the park is situated in a place which is highly affected by rebel groups and therefore not preferable by many travelers.
4. Virunga National Park – mountain gorillas in Africa :
Virunga national park in Congo is home to the world's most famous population of mountain gorillas but has been hit by rising instability and violence in the country. Virunga is located in Congo's North Kivu province, covering nearly 8,000 square miles. As well as being home to one of the world's largest populations of the critically endangered mountain gorillas, there are many other species found in the park including birds, wildlife, and many more others.
5. Kahuzi Biega National Park – mountain gorillas in Africa :
Kahuzi Biega National Park is a unique habitat with very rare wildlife species known as Eastern lowland gorillas (Gorilla beringei graueri), Eastern needle-clawed galago, Mclaud's horseshoe bat, Alexander's bush squirrel, the Mount Kahuzi climbing mouse, the bongo antelope, Eastern chimpanzee, bush elephant, bush buffaloes, and others are some rare resident wildlife species that are facing threat to their existence.
Uganda/Rwanda gorilla safari packages
To help you better plan your gorilla trekking safari, here is a list of top gorilla packages in Uganda and Rwanda that you can choose from;
7 days great primates Uganda safari 
14 days Uganda safari Eco-explorer 
Our most popular Uganda Gorilla Safaris, Primate Tour to Bwindi Impenetrable Park, and Mgahinga Gorilla Park offer our Gorilla Safari Uganda clients a great opportunity to go for Mountain Gorilla Trekking. The Most Popular Safari Packages include 3 days Bwindi Uganda Gorilla Trekking Safari and 3 days Mgahinga Gorilla Uganda Safari Tour. The Uganda Safari are categorized into 3 major categories namely Short safaris, medium safaris, and long safaris. The short safaris range from 1-3 days, the medium safaris range from 4-6 days and the long safaris range from 7 days and beyond.