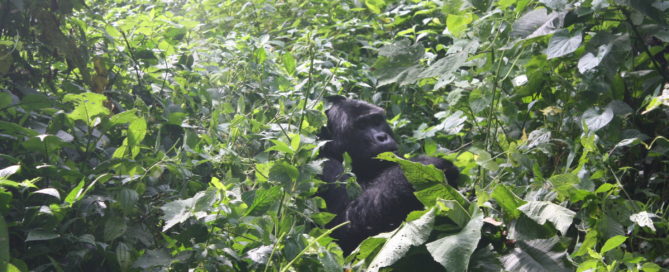 9 Days Wildlife Tour Uganda Gorilla Safari From $2799
Steven
9 Days Wildlife Tour Uganda Gorilla Safari to Uganda primates tour destinations
The 9 Days wildlife tour Uganda gorilla safari takes you to the main Uganda primates tour destinations of Bwindi Impenetrable national park for mountain gorilla trekking tour. Kibale forest national park (the primate capital of the world) for the Chimpanzee trekking tour. Queen Elizabeth national park the oldest national park in Uganda for a great wildlife safari experience and boat ride at the Kazinga Channel.
9 Days Wildlife Tour Uganda Gorilla Safari takes you to Fortportal where you will adventure the shadow of the Mountains of the Moon, you will proceed to Kibale forest park for a Chimpanzee tracking tour Uganda. The safari will take you to Queen Elizabeth National park for a Boat cruise at Kazinga Channel and a game drive in search of Tree-climbing lions in the Isasha Sector and also a Chimpanzee tracking tour in Bigodi wetland.
The 9 Days Wildlife Tour Uganda Gorilla Safari will take you to Bwindi Impenetrable forest for a mountain Gorilla Trekking tour after which you proceed to Lake Bunyonyi for a bird watching trip and relaxation. After there, you will transfer from Lake Bunyonyi to Kampala and you will have a stop-over at Igongo Cultural Center for a Cultural tour and Uganda Equator in Kayabwe along Masaka-Kampala road. The 9 days Uganda Adventure Safaris Tour starts and ends with a Kampala City tour in Uganda's Capital City.
Bwindi Impenetrable Forest National Park lies in southwestern Uganda on the edge of the Great Rift Valley. Its mist-covered hillsides are blanketed by one of Uganda's oldest and most biologically diverse rainforests well known as the Bwindi Impenetrable Forest, which has lasted for over 25,000 years and contains over 400 species of plants. More famously, this "impenetrable forest" also protects an estimated number of 400 mountain gorillas which are grouped under 18 families making roughly half of the world's population. Read More Here
The Queen Elizabeth national park is Uganda's most visited national park. This park is known for its abundance in the wildlife of about 95 mammal species and over 600 bird species but it's famous for its tree-climbing lions, whose males sport black manes in an area called Ishasha in Rukungiri.
This park lies on 2.056 sq. km of land situated south of the Rwenzori Mountains, bordering Congo and including two lakes, George and Edward, which are connected through the natural Kazinga Channel. It is an ecosystem made of wetland and open savannah areas, at an altitude of 910m at Lake Edward. Read More Here.
9 Days Wildlife Tour Uganda Gorilla Safari: Safari Day by Day
Day 1of the 9 Days Wildlife Tour Uganda Gorilla Safari – Fort Portal on the shadow of the Mountains of the Moon
Have breakfast and drive to Fort Portal at leisure through Mubende-Mityana road. Lunch en-route. You reach the colorful and pretty town of Fort Portal, the capital of the Tooro kingdom, in the shadow of the fabled "Mountains of the Moon," the Rwenzori. Dinner and overnight at Mountains of the moon or Fortmotel or Ataco Country Resort( B)
Day 2 of the 9 Days Wildlife Tour Uganda Gorilla Safari – Chimpanzee trekking in Kibale National Park
Transfer to Kibale Forest National Park after an early breakfast, for primate viewing. The activity starts at 8.00 am in the morning. A half-day search for chimpanzees and other primates including photos, Red-colobuses, Blues, Red-tailed and grey-cheeked mangabeys swinging through the dense forest and birds, butterflies, and many small insects.
The guide will provide detailed explanations on not only primates but also on all the forest's fauna and flora. After lunch, a visit to the Bigodi swamp eco-tourism site is amazing, as we shall encounter rare and beautiful flora and fauna.
On the way back do not miss the beauty of the Kasenda Crater Lakes, which dominates all the surrounding areas with the possibility of amazing panoramic views. Mountains of the moon or Fortmotel or Ataco Country Resort( B)
Day 3 of the 9 Days Wildlife Tour Uganda Gorilla Safari -The boat cruise on Kazinga Channel
Transfer to Queen Elizabeth National Park, following the mystical Ruwenzori Mountain Range most of the journey. A game drive en-route may be rewarded with a view of waterbucks, elephants, leopards, buffaloes, spotted hyenas, and a variety of antelope species. Arrive early for lunch on top of the Mweya peninsula.
Enjoy the unique two-hour boat cruise on the Kazinga Channel and into Lake Edward. This trip passes through possibly the highest concentration of hippos and many animals may be seen drinking at the water's edge.
This launch cruise offers an excellent platform for photography, bird watching in Queen Elizabeth national park, and game viewing. The prolific bird life is colorful and stupendous with well over 550 resident species. Dinner and overnight at Mweya safari lodge or Ihamba lodge or Bush lodge.
After a cup of coffee embark on an early morning game drive along Kasenyi tracks and Queen's mile in the park and expect to see lions, elephants, cape buffalos, warthogs, spotted hyenas, mongoose, waterbucks, kobs and, if lucky, the leopard, plus a lot of small animals and birds.
You will reach Lake George. Drive back to the lodge for lunch. In the afternoon drive to the splendid Crater Lakes region for sightseeing.Dinner and overnight at Mweya safari lodge or Ihamba lodge or Bush lodge.
Early morning transfer to Bwindi through the Ishasha sector of the Park via Maramagambo Forest. Have a midday game drive on a search for the rare tree-climbing lions which you can see only in this area of Uganda. Here lives a population of lions that enjoy resting on the fig trees when the day is warm.
The landscape is an open savannah with a variety of acacia trees. Lunch en route. Proceed to Bwindi Impenetrable National Park for dinner and overnight at Lake Mutanda Chameleon hill or Mutanda lake resort.
Day 6 of the 9 Days Wildlife Tour Uganda Gorilla Safari – Bwindi impenetrable at leisure
After breakfast, optional: we visit and interact with the local Batwa and Bafumbira communities. This visit enables you to get an insight into how these local residents live in this part of the world and how they perceive life, this information is quite enriching. We take a lunch break and head for the boat ride on lake mutanda, quite soothing, and amazing views of the virus. Dinner and overnight as above.
Day 7 of the 9 Days Wildlife Tour Uganda Gorilla Safari – The encounter with mountains gorillas
Early morning transfer to the park headquarters for the briefing before you enter into the gorilla sanctuary of Bwindi Impenetrable Forest. The rainforest is spectacular as it offers a dramatic, heavily forested, and dense landscape crisscrossed by numerous animal trails, allowing access for tourists.
This park is best known for the fascinating mountain gorillas, where the time is taken and terrain varies according to the movements of these marvelous primates. The thrill of spending time with and observing the gorillas is a rare, moving, awesome, and exciting adventure.
The gorillas are shy and peaceful animals and it is an unforgettable experience to watch and photograph them as they interact with each other. Dinner and overnight Lake Mutanda Chameleon hill or Mutanda lake resort.
Take breakfast before making a scenic journey to Kabale through the beautiful terrain of the rolling hills with the terraced landscape. An area referred to as the "Switzerland of Africa". Stopover at the Bakiga Museum in Kabale to discover the culture of the people living in the area.
Lunch at Arcadia Cottages, with a unique and amazing panoramic view of Lake Bunyonyi, the deepest in Uganda. Afternoon boats ride inside the lake to various islands for bird viewing and sightseeing. Return to Birdnest or Heritage lodge or Bunyonyi overland for dinner and overnight.
Day 9 of the 9 Days Wildlife Tour Uganda Gorilla Safari –

Reserved for departure.
End of the 9 Days Wildlife Tour Uganda Gorilla Safari