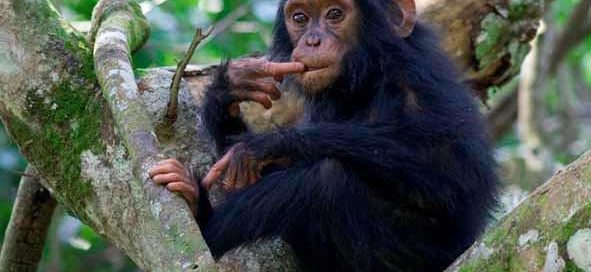 2 Days Kibale Forest National Park Safari
Steven
2 Days Kibale Forest National Park Safari
The 2 days Kibale Forest national park safari is a Chimpanzee trekking experience where you are given the opportunity to see 13 primate species, 60 mammal species and over 375 species of birds. The trip is a direct from Kampala to the park and back.
Highlights of the safari
Day 1 of the 2 Days Kibale Forest National Park Safari: Journey from Kampala to Kibale national park
Day 2 of the 2 Days Kibale Forest National Park Safari: Early morning Chimpanzee trekking and journey back to Kampala
Day 1 of the 2 Days Kibale Forest national park safari: Drivefrom Kampala to Kibale Forest National Park
Start your journey from Kampala straight to Kibale Forest national park through Mubende. Arrive at the park and go to your lodge for lunch and refreshment. In the afternoon you go for chimpanzee tracking in Bigodi wetlands and also hike to the top of the mountains of the moon in fort portal.  Return back to your lodge for dinner and overnight.
Accommodation
Primate lodge
Kyaninga lodge
Ndali lodge
Day 2 of the 2 Days Kibale Forest national park safari: Do Chimpanzee Tracking and other Primate tour
Wake up and go for the early morning Chimpanzee trekking in Bigodi wetland and other primates tour in the forest such as Black and white colobus monkeys, and other wildlife. On this expedition, you will watch the chimpanzees wake up, build their nests and go about their normal days. This experience will leave you in awe of these man-like creatures and is an adventure worthwhile. After this embark on your Lodge for refreshment and lunch then start the journey back to Kampala city.
End of the 2 Days Kibale Forest park safari
Uganda safari, trips & tours from Uganda gorilla trekking tours to exciting game drives in the most visited Uganda Safari Destinations that will leave you wanting for more. The perfect Uganda safaris for you and your budget. Uganda is considered as the Pearl of Africa has a lot to offer to the world in terms of safari adventures. Besides, Uganda has such a wealth of attractions that a single visit will not be enough to discover all its wonders. It has 10 National parks namely: Murchison fall NP, Kidepo Valley NP, Queen Elizabeth NP, Mgahinga Gorilla National Park, Lake Mburo National Park, Semuliki National Park, Rwenzori Mountains NP, Kibale Forest NP, Bwindi impenetrable NP, Mt.Elgon NP. Each of these offering magnificent and unique fauna and flora, which make visitors always remember memorable moments in the Pearl of Africa.
Our most popular Uganda Gorilla Safaris to Bwindi Impenetrable Park and Mgahinga Gorilla Park offer our Gorilla Safari Uganda clients a great opportunity to go for Mountain Gorilla Trekking. The Most Popular Safari Packages include 3 days Bwindi Uganda Gorilla Trekking Safari and 3 days Mgahinga Gorilla Uganda Safari Tour. The Uganda Safari are categorized into 3 major categories namely Short safaris, medium safaris, and long safaris. The short safaris range from 1-3 days, the medium safaris range from 4-6 days and the long safaris range from 7 days and beyond.