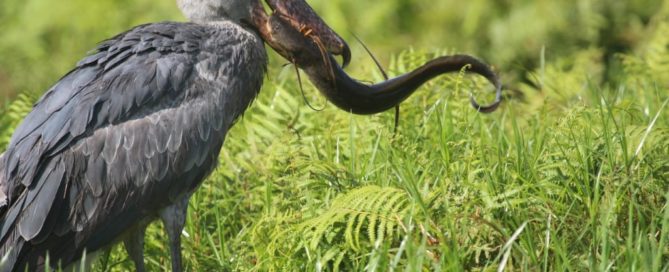 15 Days Uganda Mountain Hiking Tour From $3997
Steven
15 Days Uganda Mountain Hiking Tour
15 Days Uganda Mountain Hiking Tour will take you to Rwenzori mountains in western Uganda for A mountain hiking tour to the top of the mountain. To Bwindi Impenetrable national park for mountain gorilla trekking tour, and wildlife safari adventure in Queen Elizabeth national park.
The 15 Days Uganda Mountain Hiking Tour will take you for a game viewing experience in Queen Elizabeth national park, then a mountain gorilla trekking tour in Bwindi Impenetrable national park and lake Bunyonyi tour for a relaxation and birding trip, and finally to Lake Mburo national park for a short game drive and boat cruise in one of the small but rich national park in Uganda.
Bwindi Impenetrable Forest National Park lies in southwestern Uganda on the edge of the Great Rift Valley. Its mist-covered hillsides are blanketed by one of Uganda's oldest and most biologically diverse rainforests well known as the Bwindi Impenetrable Forest, which has lasted for over 25,000 years and contains over 400 species of plants. More famously, this "impenetrable forest" also protects an estimated number of 400 mountain gorillas which are grouped under 18 families making roughly half of the world's population.
This biologically diverse region also provides shelter to a further 120 mammals, including forest Elephants, several primate species such as baboons and chimpanzees, a large number of butterflies, as well antelopes. There are about 350 species of birds hosted in this botanical Impenetrable forest, including 23 Albertine Rift endemics.
The adjacent towns of Buhoma and Nkuringo both have a magnificent assemblage of luxury safari lodges, homely Bandas, and budget campsites, as well as restaurants, craft stalls, and guiding services. Chances are extremely high for you to discover the local Bakiga and Batwa Pygmy cultures through performances which you're on the cultural encounters and visits, workshops, and village walk. Read More Here
15 Days Uganda Mountain Hiking Tour: Safari Day by day
Day 1 of the 15 Days Uganda Mountain Hiking Tour: Arrival
On arrival at Entebbe International Airport, you will be met by our representative who will transfer you to Kampala for overnight. Dinner and overnight at Imperial Royale (C) or Metropole Hotel (M) or Tristar Hotel (B)
Day 2 of the 15 Days Uganda Mountain Hiking Tour: Mountain hiking tour
Transfer to Rwenzori Transfer to Kasese, lunch in Fort portal town. Dinner and overnight at Hotel Margherita.
Day 3 of the 15 Days Uganda Mountain Hiking Tour: Start of the Weismann's and Stella Peaks – 6-day trek:
The trek starts from Kyanjuki, which is situated 1,450 meters above sea level and 12-kilometers from Kasese at around 9 am.
You will be briefed by your guides at the UWA rangers post at 1,727 meters. We start by walking up the valley floor through tall forest trees of the Afro Montane Forest Zone.
In this beautiful environment, you will be able to see a variety of Flora and Fauna. Sleep at Sine Hut – 2,585 meters Sleep at Sine Hut – 2,585 meters
Day 4 of the 15 Days Uganda Mountain Hiking Tour: From Sine Hut 2,585 meters to Mutinda Camp 3,925 meters
After a good breakfast, trekking starts at 8.30 am to Kalalama Camp at 3,147 meters through the Bamboo-Mimulopsis Zone which is a steep climb.
Reaching Kalalama Camp takes a rest and a quick cup of tea or coffee before heading on to Mutinda Camp. The trail meanders up and over several small knolls along a ridge top then drops down the side of the valley before climbing again, and in doing so cross several small streams and passing close to moss covered waterfalls.
The trail twists and turns as you climb up the deep valley, which has an enormous variety of plants and flowers. Eventually, you get to Mutinda Camp which is set near a small river that drops off a waterfall and offers a chance to wash, refresh and relax or, you may wish to climb up to the top of the Mutinda Lookout (one and a half hours up and one hour down).
Day 5 of the 15 Days Uganda Mountain Hiking Tour:
4.9km starting at 3,688 meters climbing to 4,062 meters You cross the Mutinda valley through the tussock grass and everlasting flowers interspersed with many Giant Lobelias before climbing a steep section up to the Namusangi Valley (3,840 meters), which ends abruptly with sheer waterfalls and fantastic views of Mutinda Peaks.
The trail climbs steadily to Bugata Camp at 4,062 meters. Bugata Camp has good facilities, solar lights, good toilets, and bathrooms where the guides may prepare some warm water in a basin for you to wash. Bugata also has a helipad (GPS reading N 18.312 E29 53.457) in case of any need for rescue by helicopter.
Day 6 of the 15 Days Uganda Mountain Hiking Tour: Climb Weismann's Peak 4,620 meters and Stella Peak 4,626 meters 3.7km to Weismann's Peak then another 800 meters to Stella Peak and return.
Total distance 9km 4 to 6 hours. The trek starts by walking across the hillside below high cliffs above Bugata Lake then around a ridge point to Lake Kopello. The last section to the peak is steep on solid rock and can be difficult when snowing or iced up and it may be necessary to use ropes for safety. On a clear day, you get fantastic views of all the main peaks, Mt Stanley, Mt Speke, and Mt Baker.
The top of Weismann's Peak is relativity flat or dome-shaped with deep moss growing on the rocks creating a beautiful atmosphere. For those who want to climb the highest point, we can take a gentle walk across the moss-covered domed shaped ridge to Stella Peak 4,626 meters. Return to Bugata Camp. Sleep at Bugata Camp.
Day 7 of the 15 Days Uganda Mountain Hiking Tour:
Descend to either Kiharo Camp 3,460 meters or Samalira Camp 3,170 meters Early morning set off around Lake Bugata and the outlet of Kopello Lake then climb 200 meters to the confluence of the two valleys.
The valley is home to many Red Forest Duiker (Cephalophuc Nigrifrons Rubidus) At night you may stay in Kiharo Camp at 3,460 meters an area rich in evergreen plants and babbling streams. At night the air is filled with the calls of the rock hyrax as they sit in the rocky cliffs high above.
Day 8 of the 15 Days Uganda Mountain Trekking Tour: Descending the Rwenzori Mountain
After a hearty breakfast, you walk down the valley which is home to many species of birds who dive in and out the thick vegetation. After descending a few kilometers you climb two hundred meters height to a ridge overlooking the valley before crossing several small valleys and streams to Kyalavula.
Samalira Camp 3,147 meters is situated in a closed valley at the top of several waterfalls and is the alternative to sleeping In Kihara Camp. From here you descend down a long ridge, through the Bamboo-Mimulopsis Zone and Afro Montane Forest Zone back down to base camp in Kilembe. Dinner and overnight at Hotel Margherita.
Day 9 of the 15 Days Uganda Mountain Trekking safari: Transfer to Queen Elizabeth national park
Drive to Queen Elizabeth National Park after breakfast. Have a game drive en –route to the lodge. After lunch, enjoy the two hours launch trip on Kazinga Channel for amazing birdlife and a variety of wildlife. An evening drive to the crater lakes region is rewarding. Dinner & overnight at Mweya safari lodge (C) or Ihamba safari lodge (M) or Bush Lodge (B).
Day 10 of the 15 Days Uganda Mountain Trekking Safari: Chimpanzee tracking in Kyambura gorge
Take an early morning cup of coffee before setting off for a game drive along Kasenyi track and Queen's mile in the park and expect to see lions, elephants, buffalos, warthogs and lots of animals and birds. Get back to the lodge for breakfast.
After lunch, drive to Kyambura gorge for a forest walk to look for the habituated chimpanzees and other primates. This gorge is 16 km long in the Rift Valley and 100 meters deep. The rangers will provide you with a walking stick for this spectacular trekking. Dinner & overnight as above.
Day 11 of the 15 Days Uganda Mountain Trekking safari: Transfer to Bwindi impenetrable forest
Early breakfast and drive to the Ishasha sector of the park for a game drive in search of the tree-climbing lions. Today you will have packed lunch. After the game drive proceeds to Bwindi for dinner and overnight Mahogany Springs/ Chameleon hill Lake Mutanda Lodge (C) or Silverback Lodge (M) or Buhooma community lodge (B). FB
Early morning transfer to the park headquarters for the briefing before you enter into the gorilla sanctuary of Bwindi Forest. The rainforest is spectacular as it offers a dramatic, heavily forested and dense landscape crisscrossed by numerous animal trails, allowing access for tourists. This park is best known for the fascinating mountain gorillas, where the time is taken and terrain varies according to the movements of these marvelous primates.
The thrill of spending time with and observing the gorillas is a rare, moving, awesome, and exciting adventure. The gorillas are shy and peaceful animals and it is an unforgettable experience to watch and photograph them as they interact with each other. Dinner and overnight as above.
Day 13 of the 15 Days Uganda Mountain Trekking safari: Transfer to Lake Bunyonyi
Take breakfast before making a scenic journey to Kabale through the beautiful terrain of the rolling hills with the terraced landscape. This area is commonly referred to as the "Switzerland of Africa".
Lunch at Birdnest, with a unique and amazing panoramic view of the Lake Bunyonyi, the deepest in Uganda. Afternoon boat ride inside the lake to various islands for bird viewing and sightseeing. Return to Birdnest for dinner and overnight, or Heritage lodge or Bunyonyi overland resort.
Day 14 of the 15 Days Uganda Mountain Trekking Safari: Lake Mburo national park
Drive to Lake Mburo National park. Arrive in time for a boat ride on the Lake. The presence of Lake Mburo within the park is a blessing worth mentioning. The lake is rich with a diversity of animal and plant species which will be viewed clearly as you are on the boat trip.
Expect to see hippopotami and birds like African Finfoot, Pelicans, Black Crake, Heron, cormorant, fish eagle; you may also sight the rare Shoebill Stork. You can opt to take on a short nature walk after the boat ride. All these will furnish your visit with pride. Dinner and overnight, stay at Mihingo lodge or Mpogo lodge FB
Day 15 of the 15 Days Uganda Mountain Trekking Tour: Departure After an early breakfast, return to Kampala for departure.
End of the 15 Days Uganda Mountain Hiking Tour
You May Also Be Interested In The Following Packages.  Book at a 15% Discount