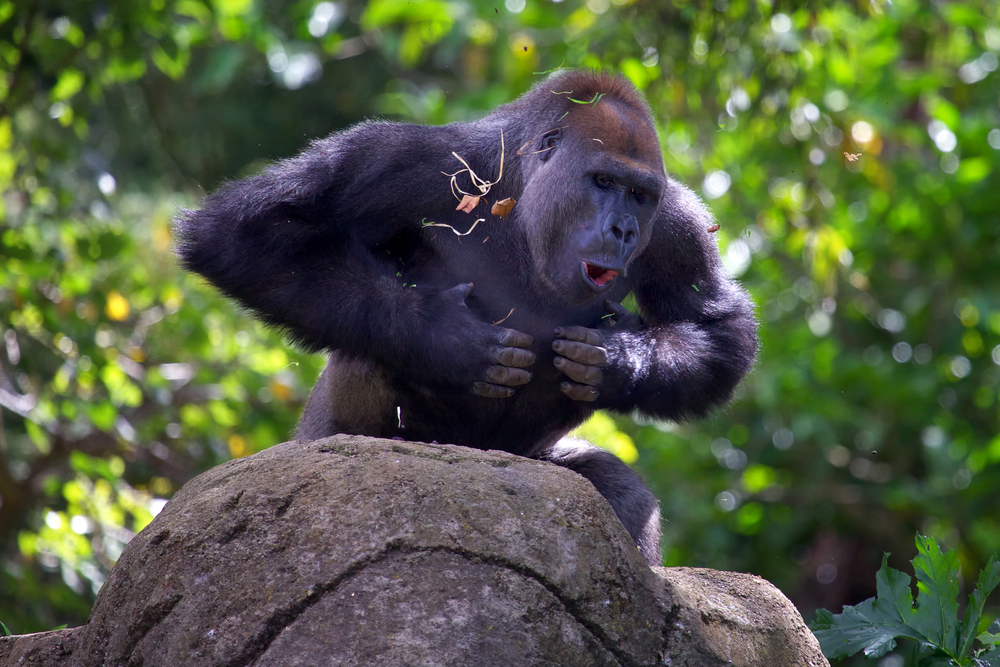 Why Trek Mountain Gorillas in Rwanda? – Everything you need to know
Gorilla Tracking Uganda
Why Trek Mountain Gorillas in Rwanda? – Everything you need to know
Why Trek Mountain Gorillas in Rwanda? – Everything you need to know about Rwanda Gorilla Trekking tours. Rwanda is the top luxury gorilla trekking destination in Africa hosting mountain gorillas. There is part of a mountain gorilla population that lives in Rwanda's Volcanoes National Park habituated for gorilla trekking.
There are 10 gorilla groups or troops in the park that tourists can trek and see as they go about their daily lives within their natural habitat.
Mountain gorillas hardly survive in zoos and therefore most of the gorillas you probably have seen in zoos are lowland gorillas.
The mountain gorillas are unique in that they live on higher altitudes offering a lifetime experience as tourists trek through the bamboo to meet these gorilla families.
There are four national parks in three countries with mountain gorillas the others being Mgahinga Gorilla National Park and Bwindi Impenetrable National Park in Uganda and Virunga National Park in Congo. However, wondering why to choose to trek mountain gorillas in Rwanda, here are the top reasons;
Why Trek Mountain Gorillas in Rwanda?
The Mountain gorilla population of Volcanoes National Park is said to move for shorter distances than those in Bwindi Forest. For intending trekkers who would not wish to trek for long, then Rwanda is that perfect destination for gorilla trekking.
Volcanoes National Park is the closest park to its country's capital. Unlike Uganda and Congo where you have a long drive of about 8 hours from the country's airport to the park, in Rwanda the moment you arrive at Kigali International Airport, you are just 2 hours away from the Volcanoes National Park. In Rwanda, it is possible to drive to the park on the day of the trek or return to Kigali after the trek. This makes it easy for travelers on short day tours to visit the country especially for tours ranging from 1 day to 3 days Rwanda gorilla trek.
For tourists who want luxury gorilla tours with short road transfers, then Rwanda is the best option. The scenery alone is amazing and cannot be ignored as it offers such a great backdrop for trekking.
What is the cost of a Rwanda gorilla trekking permit?
The cost of a Rwanda gorilla trekking permit is USD 1500 each. Each Rwanda gorilla trekking permit is valid for a single gorilla trekking experience. The cost is general for foreign nonresidents, residents as well as Rwandese.
2020 Rwanda discounted permits for all Rwandan nationals as well as East African citizens will pay US$ 200 for a gorilla permit and foreign nationals will pay US$ 500 for each permit.
This means US$ 1300 less for East African citizens and US$ 1000 less for the foreign residents, which makes it very affordable for those who had always wanted to trek the gorillas but had financial constraints.
However, the cost of the permit isn't the general cost of the gorilla safari. This is just for trekking and your tour operator offers the final cost including all activities, meals, accommodation, transport, and guide.
What is the best time Rwanda gorilla trekking tours?
It is referred to as a year-round activity but the best time to go gorilla trekking in Rwanda is during the short and long dry seasons.
The short dry season is from the time of mid-December to early February. The long dry season is from June to September. Both the short and long dry seasons are the best times for gorilla trekking.
June – September: The period between June to September is the longest dry season in Rwanda and the best time to trek gorillas.  During this time hiking is easier as the trails are not so muddy and slippery.
There are also few chances of rain pouring during this season of the year but since it is a tropical jungle anything can happen and it can rain.
December – February: This is the short dry season and also the best time to visit Rwanda for gorilla trekking.  During the dry season, it offers the easiest hiking or walking conditions in the forest. The malaria risk is also low during this time.
How difficult is Gorilla Trekking in Rwanda?
Though Volcanoes National Park raises to an altitude of about 2,500 m above sea level, gorilla trekking isn't really as difficult as it is depicted.
Gorilla trekking isn't very hard as there are trails that are set through the forests to help the trekkers. The group is guided by skilled trackers who help you go through the forest.
Being disabled or having problems with mobility does not mean that you cannot go gorilla trekking in Rwanda. You can hire porters and a sedan chair that can be used to carry you till where the gorillas can be found.
When you reach the gorillas, you are put down to take pictures and then returned to the trek start point.
Rwanda gorilla trekking tours are such a great option to customize on any East African safari. With ease especially with air transport in the East African region, it is very possible to combine gorilla trekking in Rwanda with a Tanzania safari, Kenya safari, or Uganda wildlife safari for game sightings.
You May Also Be Interested In The Following Packages – Book Uganda Gorilla Safari Packages at a Discount
3 Day Uganda gorilla trekking safari, – Bwindi Impenetrable National Park

3 Days Uganda Gorilla Trekking Safari is done in Rushaga Bwindi Impenetrable National Park which is located in southwestern Uganda a magnificent verdant swathe across the steep ridges of the Albertine Rift Valley.
This ancient rain-forest is one of the few in Africa to have flourished and home to half of the world's endangered population of mountain gorillas.
Looking into the expressive brown eyes of these giants is surely the most exciting and poignant wildlife encounter Uganda has to offer! Apart from the gorilla trekking Tour, the park boasts of 90 mammal species, including 11 primates and prominent bird species.
It is a treasure chest of flora and fauna with ten gorilla groups currently available to be visited by only eight persons per group on a daily basis. However, strict rules have to be followed to prevent behavioral disturbances and transmission of diseases.
3 Days Bwindi Gorilla Safari Uganda Tour – Mountain Gorillas Endangered

3 Days Bwindi Gorilla Safari Uganda Tour takes you on an Uganda gorilla tour to Uganda gorilla safaris tour destination for gorilla trekking tours while on your Uganda safaris to Bwindi Impenetrable forest park.
3 Days Gorilla Safari Uganda Bwindi Impenetrable Park Tour, Uganda gorilla tour, gorilla safaris, gorilla trekking tours, gorilla safaris, Uganda safaris, gorilla tracking, Gorilla forest camp, where to visit in Africa, attractions in Uganda. Find the gorillas in the marvelous primates.
An encounter with an earth-shaking 350-pound silverback or baby gorilla is an unforgettable experience! view the long-horned Ankole cattle papyrus acacia woodlands and terraced landscape of Kigezi high lands on your way to Bwindi impenetrable national park.