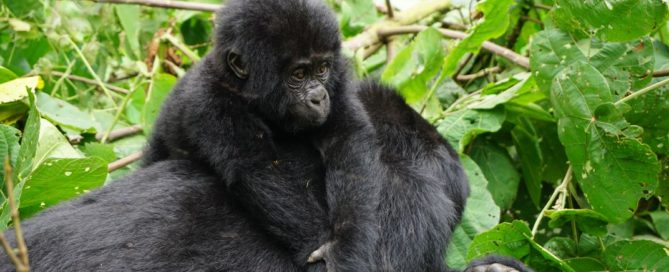 Why Mountain Gorillas are endangered
Gorilla Tracking Uganda
Why Mountain Gorillas are endangered.
It is popular to refer to as the mountain gorilla population as endangered, however, what does it mean and why are mountain gorillas endangered? The International Union for Conservation of Nature (IUCN Red List) founded in 1964 is the world's most comprehensive inventory of the global conservation status of biological species categorized mountain gorillas as endangered.
However, previously the mountain gorillas were categorized as critically endangered because of their risk of extinction. With the increase in the number of mountain gorillas to over 800, they were moved from critically endangered to endangered. This was one step up the ladder and success story to the conservationists.
From 1902, when the mountain gorilla subspecies was discovered, the population has endured years of war, hunting, habitat destruction, and disease; threats so severe that it was once thought the mountain gorilla would be extinct by the end of the twentieth century. However, what was seen as a population at severe risk saw a bright future a couple of years ago because of the increasing numbers.
In a few instances, some people have confused endangered to mountain gorillas being dangerous. These two words have no connection and mountain gorillas are very gentle giants not known to be of harm to humans.
Being endangered is derived from the fact that their numbers are less according to the criteria used by IUCN Red List to categorize species.
About Mountain Gorillas
Mountain Gorillas are a subspecies of the eastern gorilla. It is split into two populations that at times have been to be different subspecies. One of the mountain gorilla population lives in the Virunga Mountains; a range of extinct volcanoes spread on the borders of Uganda, Rwanda and the Democratic Republic of Congo. The other population is within Bwindi Impenetrable National Park.
Mountain gorillas live in high altitude areas of altitude about 8,000 to 13,000 ft. They have thicker fur and more of it compared to other great apes. It is this thick and much fur that keeps them warm and able to survive in a habitat where temperatures often drop below freezing point.
How Many Mountain Gorillas are remaining in the wild?
Mountain gorillas are the only apes facing population increase and the progress is a steady one. With strong conservation efforts, Mountain gorillas have increased from about 880 to 1,063 in just two years. After the mountain gorilla population census of Virunga massif in 2018, the total world population of mountain gorillas increased to 1004, this was a step to success.
On the 16th of December 2019, the Bwindi population of Mountain gorillas was declared in accordance with the December 2018 census and there was an estimated total of 459 mountain gorillas in Bwindi Impenetrable National Park alone. This means an increase of the gorillas to a total of about 1063.
With the increasing numbers of mountain gorillas, trekking is such a memorable activity. Being that they live in their natural habitat, you have to plan an Uganda gorilla trekking safari, gorilla tour Rwanda or Congo gorilla safari. Travelers can book a gorilla tracking safari or combine it with other Uganda safaris, Rwanda tours including activities like wildlife viewing, bird watching, or any other adventure trips.
You May Also Be Interested in the Following