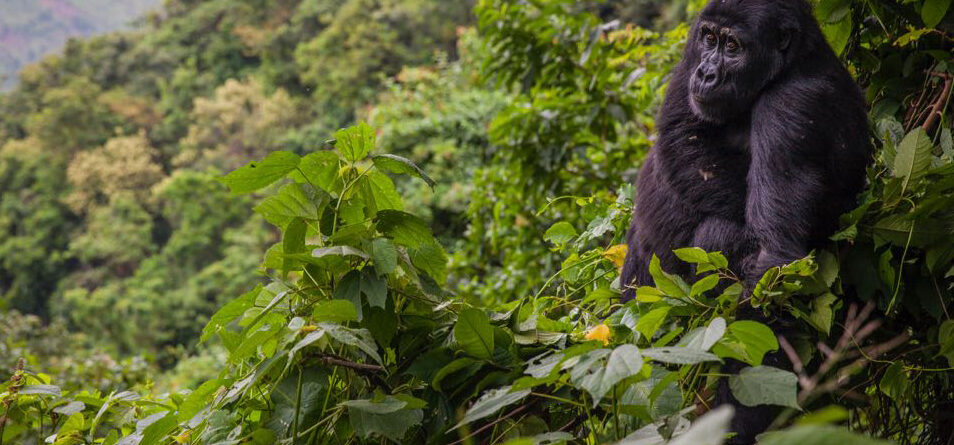 Why are Gorillas Found Only in Africa?
Gorilla Tracking Uganda
Why are Gorillas Found Only in Africa?
Many travelers wonder as to Why are Gorillas Found Only in Africa? Gorillas are the largest primates that share about 98% DNA with humans which brings them man's closest relatives after chimpanzees and bonobos.
They are gentle and display many human like characters and emotions. Gorillas have emotions that they display according to how they feel including showing happiness and sadness.
Gorillas are large with broad chests and shoulders, large human like hands and small eyes. Gorillas live in families or groups in tropical forests of Africa surviving within groups or families led by a dominant silverback.
Mountain gorillas only live in their natural habitat and these are dense tropical forests. These habitats act as refuge from their threats and also offer all the food needed by the gorillas each day.
The gorilla diet is specific and requires many tons of food daily and that's why the tropical rainforests offer the best provision.
With the weather conditions in Africa, the tropical forests offer great habitat as there is enough food to feed the gorilla population.
The weather conditions are not extreme in Africa like winter or summer therefore making the forests able to flourish all year round. This is why mountain gorillas only live in Africa especially in the tropics near the equator.
Where to trek Mountain Gorillas in Africa – Why are Gorillas Found Only in Africa?

To have a trekking experience and see the giant gorillas, one needs to visit any of their natural habitats. Mountain gorillas can only be seen in Uganda, Rwanda and the Democratic Republic of Congo. Here are the four national parks that host the mountain gorillas;
Bwindi Impenetrable National Park
Bwindi Impenetrable Forest National Park is located in southwestern Uganda. The park is part of the Impenetrable Bwindi Forest, and is located along Congo border next to Virunga National Park and on the edge of the western Rift Valley.
The jungle forests covers 331 square kilometers and contains both montane and lowland forest and is accessible only on foot.
Bwindi Impenetrable National Park is home to almost 480 mountain gorillas that is almost half of the world's remaining mountain gorillas. About 19 gorilla families are fully habituated and can be trekked on a Uganda gorilla safari.
Volcanoes National Park (Why are Gorillas Found Only in Africa?)
Volcanoes National Park well known as Parc National des Volcans is located on the north-western province of Rwanda in a small town known as Musanze.
The park harbors the endangered Mountain Gorillas of Rwanda that are always available for tourists who would love to carry out gorilla trekking tours in Rwanda.
Volcanoes National Park borders with Congo's Virunga National Park and Mgahinga Gorilla National Park in south-western Uganda.
Volcanoes National Park has several habituated mountain gorillas and are known to be easier to be trekked than the Bwindi gorilla population.
Mountain gorillas of Rwanda are known to move for shorter distances and therefore this makes them easier to trek than those of Bwindi that move for longer distances and make trekking difficult.
Mgahinga Gorilla National Park (Why are Gorillas Found Only in Africa?)
Mgahinga Gorilla National Park is Uganda's smallest national park and home to mountain gorillas with 1 habituated gorilla family known as the Nyakagezi gorilla group. The park is located in Southwestern Uganda. Tracking the Nyakagezi gorilla group is a mazing with the fact that this group is big and social compared to many other habituated gorilla groups.
Virunga National Park in the Democratic Republic of Congo is also home to Mountain gorillas. The park is home to habituated gorilla families that can be trekked.
To reach the park, tourists usually arrive via Rwanda then connect to Congo by road. Trekking gorillas in Congo is very affordable as permits are the cheapest of all those in Africa.
The above national parks are the top mountain gorilla trekking spots in Africa. The only way of seeing these gentle giants is by undertaking a Uganda gorilla trekking safaris, gorilla tour Rwanda or Congo gorilla trekking safari.