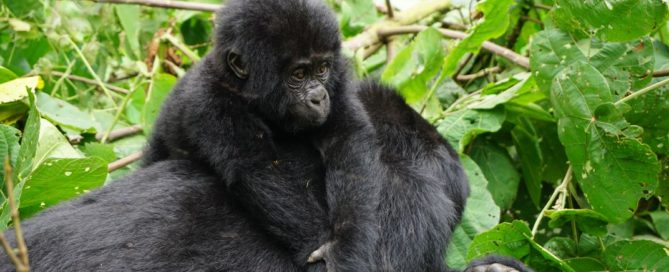 Where are the best places to see gorillas in the wild?
Gorilla Tracking Uganda
Where are the best places to see gorillas in the wild?
World's best places to see gorillas in the wild
Gorillas are the largest of all primates and surely magnificent animals to behold or see especially in the wild. Gorillas are of four subspecies and one of them, the mountain gorillas only live in their natural habitats. To see these gorillas, an individual has to visit the wild or their natural habitats, and here are the best places to see the gorillas in the wild.
Mountain Gorillas (Gorilla beringei beringei) is a subspecies of the eastern gorilla found in the tropical forests of East and Central Africa. Mountain gorillas can only be seen in Uganda, Rwanda, and the Democratic Republic of Congo. The only way of seeing these gentle giants is by undertaking Uganda gorilla trekking safaris, gorilla trekking tour Rwanda or Congo gorilla trekking.
How to see the mountain gorillas in the wild is by taking a trekking safari. Minimum age of 15 is allowed to trek mountain gorillas and 8 people trek a single gorilla family. Here are the world's best places to see gorillas in the wild;
Bwindi Impenetrable National Park
Bwindi Impenetrable Forest National Park is located in southwestern Uganda. The park is part of the Impenetrable Bwindi Forest and is located along the Congo border next to Virunga National Park and on the edge of the western Rift Valley. The jungle forests cover 331 square kilometers and contain both montane and lowland forest and are accessible only on foot.
Bwindi Impenetrable National Park is home to almost 480 mountain gorillas that is almost half of the world's remaining mountain gorillas. About 19 gorilla families are fully habituated and can be trekked on Uganda gorilla safari.
Volcanoes National Park well known as Parc National des Volcans is located in the north-western province of Rwanda in a small town known as Musanze. The park harbors the endangered Mountain Gorillas of Rwanda that is always available for tourists who would love to carry out gorilla trekking tours in Rwanda. Volcanoes National Park borders Congo's Virunga National Park and Mgahinga Gorilla National Park in south-western Uganda.
Volcanoes National Park has several habituated mountain gorillas and is known to be easier to trek than the Bwindi gorilla population. Mountain gorillas of Rwanda are known to move for shorter distances and therefore this makes them easier to trek than those of Bwindi that move for longer distances and make trekking difficult.
Mgahinga Gorilla National Park
Mgahinga Gorilla National Park is Uganda's smallest national park and home to mountain gorillas with 1 habituated gorilla family known as the Nyakagezi gorilla group. The park is located in Southwestern Uganda. Tracking the Nyakagezi gorilla group is amazing with the fact that this group is big and social compared to many other habituated gorilla groups.
The above national parks are the top mountain gorilla trekking spots in Africa. Virunga National Park in the Democratic Republic of Congo is also home to Mountain gorillas, however, the park is situated in a place which is highly affected by rebel groups and therefore not preferable by many travelers.
These three national parks all offer gorilla tours on a daily basis and can be visited when you contact us for bookings.
You May Also Be Interested In The Following Uganda Gorilla Trekking Tour Packages
3 Day Uganda gorilla trekking safari, – Bwindi Impenetrable National Park

3 Days Uganda Gorilla Trekking Safari is done in Rushaga Bwindi Impenetrable National Park which is located in southwestern Uganda a magnificent verdant swathe across the steep ridges of the Albertine Rift Valley.
This ancient rain-forest is one of the few in Africa to have flourished and home to half of the world's endangered population of mountain gorillas.
Looking into the expressive brown eyes of these giants is surely the most exciting and poignant wildlife encounter Uganda has to offer! Apart from the gorilla trekking Tour, the park boasts of 90 mammal species, including 11 primates and prominent bird species.
It is a treasure chest of flora and fauna with ten gorilla groups currently available to be visited by only eight persons per group on a daily basis. However, strict rules have to be followed to prevent behavioral disturbances and transmission of diseases.
3 Days Bwindi Gorilla Safari Uganda Tour – Mountain Gorillas Endangered

3 Days Bwindi Gorilla Safari Uganda Tour takes you on an Uganda gorilla tour to Uganda gorilla safaris tour destination for gorilla trekking tours while on your Uganda safaris to Bwindi Impenetrable forest park.
3 Days Gorilla Safari Uganda Bwindi Impenetrable Park Tour, Uganda gorilla tour, gorilla safaris, gorilla trekking tours, gorilla safaris, Uganda safaris, gorilla tracking, Gorilla forest camp, where to visit in Africa, attractions in Uganda. Find the gorillas in the marvelous primates.
An encounter with an earth-shaking 350-pound silverback or baby gorilla is an unforgettable experience! view the long-horned Ankole cattle papyrus acacia woodlands and terraced landscape of Kigezi high lands on your way to Bwindi impenetrable national park.
Searches related to best places to see gorillas