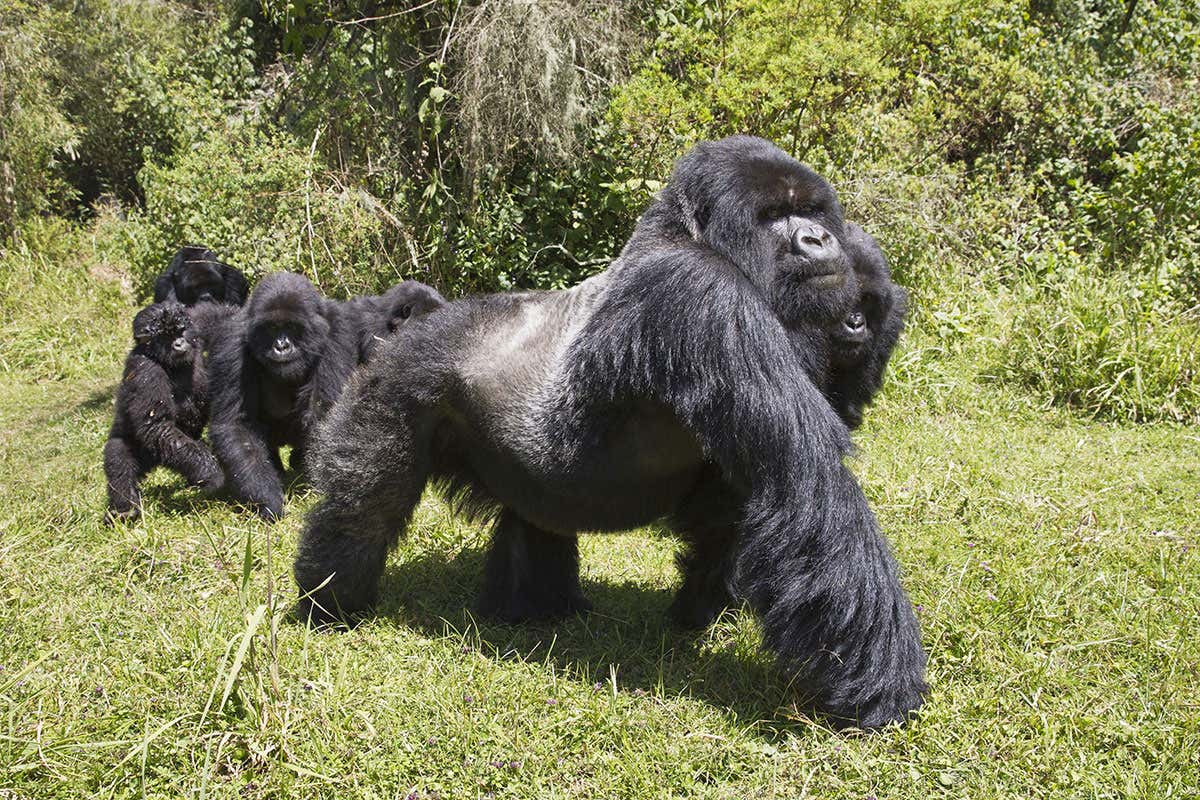 What to do when a gorilla charges on you when tracking
Gorilla Tracking Uganda
What to do when a gorilla charges on you when tracking
What to do when a gorilla charges on you when tracking while in the jungles of Bwindi Impenetrable forest national park. Mountain gorillas living in their natural habitats within the jungles of Africa are popularly trekked by tourists on a daily. However, many always wonder whether mountain gorillas are friendly and can not cause any harm to humans.
It's true mountain gorillas are very friendly and that's why they are referred to as gentle giants, however, always keep in mind that they are still wild animals. In case a gorilla feels un secure, from the presence of humans they can charge towards a person.
At this time many go into a panic and wonder what they should do. To be better prepared for in case this happens, here are tips on what to do just in case a gorilla charges on you;
Study the gorillas' behavior
Before a gorilla charges, it may change its behavior. A gorilla may vocalize loudly and pound, jump or slap the ground if angry and that should be a telling sign for you to act otherwise.
Gorillas that are curious will just grab or tug your clothes. Therefore, when you see a gorilla pound know that it is angry and when it just grabs your clothes in most cases it's just curious and not worrying. In case of any of these signs, your guide will always tell you what to do.
After knowing the reaction of the gorilla always stay calm. When a gorilla charges, it's only human that someone screams, however, try as much as possible to keep calm. If you scream it will only antagonize the gorillas.
Your reaction greatly determines how the gorillas react, when you behave like you are threatening them, they will also react back and when you keep calm they will see you not as a threat and keep away.
Generally, gorillas do not like looking directly into their eyes, so try as much as possible to look away.  Looking into the eyes of these gentle giants and seeing them closely is a dream to everyone who goes gorilla tracking, however, do not look directly into their eyes especially when they charge. This is because they will perceive it as though you are trying to challenge them and could charge or attack.
Crouch down and make yourself as small a target as possible
When the gorilla charges, try to crouch down such that you are not a target. This is because when you stand, you will look like you are challenging the gorilla. Gorillas are scared by anything that challenges their authority so be careful on positioning yourself as a threat.
During any gorilla tracking safari be it on the Uganda gorilla safari or Rwanda gorilla tour, one of the main rules that tourists are asked to follow is to always have their voices low. However, when a gorilla charges try to be completely quiet.
Even if the gorilla goes ahead to attack, do not resist or fight back, it may interpret this behavior as threatening and attack more severely. Your guide will always be of help in case you have followed all the rules and the gorilla still wants to harm you.
If the gorilla has gotten hold of you, begin to groom its arm while loudly smacking your lips. Primates are fastidious groomers and grooming the gorilla in this fashion may distract the gorilla in a non-threatening way. As the gorilla's grip relaxes, slowly move you're grooming hand to the gorilla's hand showing keen interest in any bits of leaf or dirt on the gorilla.
With the above guidelines, you will surely be safe when a gorilla charges on you.