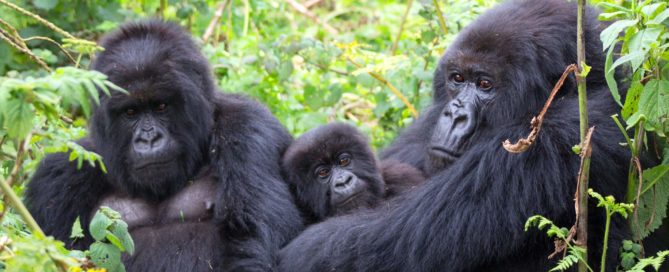 Uganda Gorilla Trekking Mgahinga from Rwanda
Gorilla Tracking Uganda
Uganda Gorilla Trekking Mgahinga from Rwanda
Mgahinga Gorilla National Park is one of Uganda's two habitats that host the rare mountain gorillas. The park is situated in the southwestern corner of the country close to the border with Rwanda.
Many travelers, therefore, wonder whether it is possible to go for Uganda gorilla trekking safari in the park while arriving and departing from Rwanda.
Uganda gorilla trekking Mgahinga from Rwanda is actually very convenient and highly recommended especially for tourists who would not like to have long road drives to the park.
Rwanda's Kigali International Airport is only about 4 hours from Mgahinga Gorilla National Park rather than Uganda's Entebbe International Airport which is more than 8 hours' drive away.
The long road drive makes the travel so hectic for some travelers which makes choosing to arrive at Kigali International Airport better.
Mgahinga Gorilla National Park is closer to Rwanda and therefore easier to return to Rwanda after the trek. In case you are in Rwanda where the gorilla trekking permit is at US$ 1500 and would love to trek gorillas at a cheaper price you can opt to trek in Mgahinga at just USD 700. It's about a 4 hours' drive from Kigali to Mgahinga and therefore you can return after the trek.
Mgahinga Gorilla National Park just like its name portrays is a gorilla habitat, home to 1 habituated mountain gorilla family known as the Nyakagezi gorilla group.
The park covers only 33.7 square kilometers. The park derives its name from a local word "Gahinga" which means a pile of volcanic stones cleared from farmland at the foot of the volcanoes.
Nyakagezi is a place in Mgahinga where there is a lot of sumptuous food that is attractive to the gorillas.
Mgahinga Gorilla National park is located in Southwestern Uganda. It is within the Virunga Mountains covering three of the volcanoes namely Mount Muhabura, Mount Gahinga, and Mount Sabyinyo.
The park is about 15 kilometers (9.3 mi) by road south of the town of Kisoro which is the closest town to the park. Mgahinga is one of the parks in the Virunga massif alongside Volcanoes National Park of Rwanda and Virunga National Park of Congo all home to Mountain gorillas.
The area was gazetted to protect the mountain gorillas as well as other wildlife species in the area. The Nyakagezi gorilla group was in the previous century known to be transboundary always traversing between Uganda and Rwanda, however, for a long period of time now, the group is known to live only within Mgahinga.
These movements are very possible within this region as the mountain gorillas from Rwanda or Congo can move to Uganda and vice versa.
This is because the mountain gorillas know no boundaries and the Virunga massif which makes up Uganda's Mgahinga, Volcanoes National Park of Rwanda and Virunga National Park Congo is continuous and easy for the gorillas to move past the country borders.
Tracking the Nyakagezi gorilla group is amazing with the fact that this group is big and social compared to many other habituated gorilla groups.
The family is comprised of three silverbacks, 2 adult females, 2 black backs, and 2 infants. The Nyakagezi family is led by Silverback Mark assisted by Mafia, Ndungutse, and Bugingo.
Rukundo is the sole Black back, Nshuti an adult female plus two babies namely Nshuti baby and Fred. Silverback Bugingo was formerly the lead silverback before Mark took over, however, the former is happily playing the role of the "senior" silverback in the group.
Such a group is rare to find since in many families big groups separate to have dominance and 2 silverbacks can't lead the same group.
Nyakagezi family is one of the easiest to track given the fact that it prefers a narrow home range for feeding, resting, relaxing, and recreation.
In case you are not ready to hike for a long distance,  Mgahinga is a better option since they can be found after a short time of trekker rather than those of Bwindi that may require a longer time to trek.
It's only in Mgahinga Gorilla National Park where mountain gorillas and golden monkeys co-exist therefore the slogan where silver meets gold.
In case you would love to see these beauties then it's good to choose trekking Mgahinga for gorillas and golden monkeys as well. There is no other place where this is possible in Uganda.
Gorilla tracking in Uganda is one of the top safari activities and Mgahinga Gorilla National Park is one of the good places to visit.
Bwindi Impenetrable National Park is the other top destination for gorilla tracking in Uganda. We also offer short tours in Rwanda as well as other Uganda safari activities to other national parks.
You May Also Be Interested In The Following Packages – Uganda gorilla trekking Mgahinga
3 Day Uganda gorilla trekking safari, Uganda safari, Acacia safaris
3 Days Uganda Gorilla Trekking Safari is done in Rushaga Bwindi Impenetrable National Park which is located in southwestern Uganda a magnificent verdant swathe across the steep ridges of the Albertine Rift Valley.
This ancient rain-forest is one of the few in Africa to have flourished and home to half of the world's endangered population of mountain gorillas.
Looking into the expressive brown eyes of these giants is surely the most exciting and poignant wildlife encounter Uganda has to offer! Apart from the gorilla trekking Tour, the park boasts of 90 mammal species, including 11 primates and prominent bird species.
It is a treasure chest of flora and fauna with ten gorilla groups currently available to be visited by only eight persons per group on a daily basis. However, strict rules have to be followed to prevent behavioral disturbances and transmission of diseases. Read More Here
3 Days Bwindi Gorilla Safari Uganda Tour – Mountain Gorillas Endangered

3 Days Bwindi Gorilla Safari Uganda Tour takes you for Uganda gorilla tour to Uganda gorilla safaris tour destination for gorilla trekking tours while on your Uganda safaris to Bwindi Impenetrable forest park.
3 Days Gorilla Safari Uganda Bwindi Impenetrable Park Tour, Uganda gorilla tour, gorilla safaris, gorilla trekking tours, gorilla safaris, Uganda safaris, gorilla tracking, Gorilla forest camp, where to visit in Africa, attractions in Uganda. Find the gorillas in the marvelous primates.
An encounter with an earth-shaking 350-pound silverback or baby gorilla is an unforgettable experience! view the long-horned Ankole cattle papyrus acacia woodlands and terraced landscape of Kigezi high lands on your way to Bwindi impenetrable national park. Read More Here