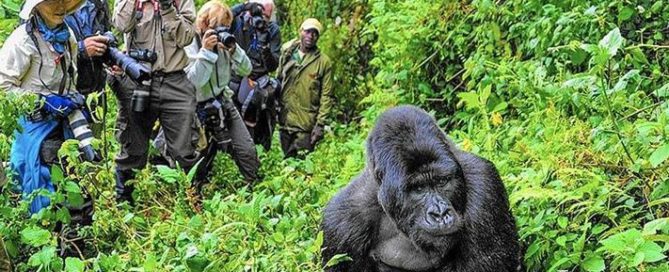 Six (6) Practical Gorilla Trekking Tips
Gorilla Tracking Uganda
Six (6) Practical Gorilla Trekking Tips
Mountain gorilla trekking worldwide is becoming a must-do activity and therefore many tourists wish to undertake the activity and have a similar experience. However, for first-time travelers, ensure to have all the relevant information required such that you have the best out of your safari. Here are practical tips to guide you on having a gorilla trekking trip;
Purchase a gorilla permit prior
Before having any gorilla trekking experience an individual needs to book a gorilla trekking permit. No matter where you are going to trek from in Africa be it in Uganda, Rwanda, or Congo you need to have purchased a gorilla trekking permit. Each country sell their permits at different costs;
For Uganda's Bwindi Impenetrable National Park and Mgahinga Gorilla National Park, A Uganda gorilla trekking permit costs US$ 700 for foreign nonresidents, US$ 600 for foreign residents, and UGX 250,000 for East African citizens.
In Rwanda, to trek in Volcanoes National Park Rwandan nationals, as well as East African citizens, will pay US$ 200 for a gorilla permit and foreign nationals will pay US$ 500 for each permit, a huge discount from the US$ 1500 previously paid by all tourists.
For Congo's Virunga National Park each gorilla trekking permit costs US$ 400.
All permits should be bought at least a few months before the actual gorilla trekking day through the park headquarters. You can best purchase a gorilla trekking permit through a gorilla tour company like us.
Prepare for the weather
On a gorilla trekking safari, there is a good chance the weather will be both hot and humid as well as slightly chilly and rainy on the same day, reason enough to be prepared for varying weather conditions.
Safari experts recommend wearing layered clothing that can be adjusted according to the temperature. Make allowances for rain by packing a waterproof jacket or coat no matter the season of the year.
It is also essential that you bring a pair of good quality hiking shoes as you will be trekking through varied montane terrain.  It's also advised to keep as much skin covered as possible as certain areas are notorious for blister bushes and stinging nettles. Garden gloves come in handy for hand protection.
Carry a few eats and water
Since you will spend some time in the jungle, you will need to regain your strength after a long trek. There are no shops in the various national parks and although some tour operators will have options for packed lunches it's still strongly advised that you pack items that will help keep your energy levels up as you may be hiking for a maximum of eight hours while you locate the gorillas.
Pack some dried fruit, nuts, or trail mix for some extra energy and plenty of water. However, when eating in the forest remember not to drop food or rubbish in the forest, leave with whatever you came in with.
Think of waterproof gadgets
When choosing the gorilla trekking activity remember that memories are all you leave with, so pack your gadgets wisely. Temperamental weather conditions require you to safely waterproof your camera. Water housing or casing is essential in protecting your equipment.
When recording your videos or taking photos remember that flash photography is not permitted while trekking or anywhere near the gorillas so make sure your flash setting is turned off.
Choose to travel in the dry season
Mountain gorillas live in dense humid tropical forests and therefore tracking them in the rainy season would not be a good idea. It's believed that you will just have a more enjoyable experience in the drier months as everything is a little more accessible due to there being less rain and less mud.
Dirt roads will be a part of the experience and these will be easier to tackle and much more comfortable in drier weather. The dry season is from mid-December to early February and the long dry season is from June to September. However, mountain gorilla trekking isn't limited to a season and you can visit any time of the year.
Follow the gorilla trekking guidelines
To avoid any trouble in the jungle and just have the greatest experience follow all the gorilla trekking guidelines to the dot, anyway, there's nothing complicated about them. These include;
Keep a minimum of 7 meters (21 feet) from the gorillas. This is to protect gorillas from human disease transmission.
You must always stay in a tight group when you are near the gorillas
Keep your voices low at all times. Though this does not prevent you from asking the guide questions about the gorilla family you have met.
DO NOT drink or eat while you are near the gorillas.
Sometimes the gorillas charge. Follow the guide's example – crouch down slowly and DO NOT look the gorilla in the eye. Then, wait for the gorillas to pass. DO NOT attempt to run away. This is because running away increases the risk of attack.
Flash photography is not permitted. When taking pictures move slowly and carefully.
Do NOT touch the gorillas. They are wild animals
The maximum time visitors are allowed to spend with the gorillas is ONE hour. If the gorillas become agitated or nervous, the guide will end the visit early.
After the visit, keep your voices down until you are at least 200 meters away from the gorillas.
Human waste should be buried 30cm deep. Do not leave open waste in the forest.
With the above tips, you can surely have your gorilla tracking experience in a very memorable way. Let us help you plan your gorilla tracking safari in Uganda or Rwanda gorilla tour at affordable costs.