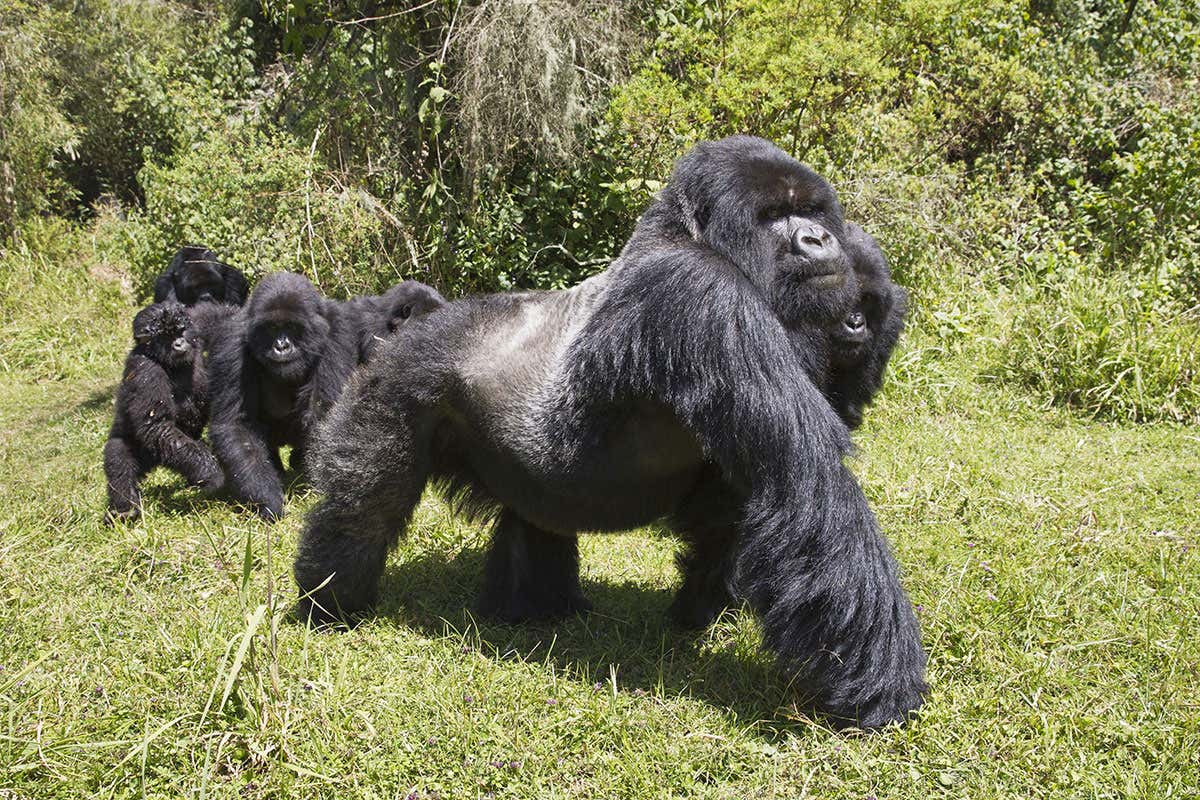 Locomotion in Gorillas: How do Gorillas Move?
Gorilla Tracking Uganda
Locomotion in Gorillas: How do Gorillas Move?
Gorillas spend most of their day moving for many reasons especially searching for food. Locomotion in Gorillas is very important as it helps them get around for their day to day activities.
Wondering how do gorillas move?  Gorillas largely move around by knuckle-walking, however, there are several other ways in which gorillas move.
Mountain gorillas use knuckle-walking plus other parts of their hand. Fist walking does not use the knuckles using the backs of their hand and using their palm.
Knuckle walking is a form of quadruple (four) walking in which the forelimbs hold the fingers in a partially flexed posture that allows body weight to press down on the ground through the knuckles.
Gorillas move with both their hands and feet. Knuckle walking helps with actions other than locomotion on the ground.
Anthropologists once thought that the common ancestor of chimpanzees and humans engaged in knuckle-walking and humans evolved upright walking from knuckle-walking.
Sometimes, gorillas walk bipedally for short distances while carrying food or in defensive situations. Though gorillas largely move by knuckle-walking, they may occasionally be seen walking on two legs (bipedally).
Bipedal or walking on two legs is mostly seen in juveniles during play, when a gorilla is carrying an infant or if they are curious about something distant. However, it is rarely seen.
How do infant gorillas move?
For the infants, they are not very independent when they're born just like human babies. After birth, they spend most of their early days laying on their mom's back and she supports them with one arm leaving the mom moving tripedal (3).
As they get stronger and are able to grasp on the back and mom can go back to walking quadrupedally. The infants grow stronger and can be able to get onto their mothers back or siblings if the mother lets them.
For how long do gorillas move daily?
Due to the abundance of food sources in undisturbed natural habitat as well as the willingness of gorillas to eat many different types of plants, some of the gorillas don't have to travel far distances to find their food. Mountain gorillas move less than a mile per day on average.
Can Gorillas Climb?
Mountain gorillas are primarily terrestrial which means they stay and move on the ground. However, they occasionally climb trees. When climbing trees or other objects, gorillas grasp the object with all four limbs.
The feet of gorillas are adapted to do this and very helpful while climbing. Their feet adapt because of their big toe that functions similarly to a thumb, their other toes are also longer and more dexterous than human toes.
Gorillas are usually moving in their habitats and that's why for the mountain gorillas, a tourist has to take a gorilla tracking trip. The gorillas keep moving as the trekkers also keep moving until they can finally observe them.
Enjoy all the locomotion characteristics of mountain gorillas on our well organized Uganda gorilla safaris or Rwanda gorilla tours.
Our Popular gorilla trekking and wildlife itineraries