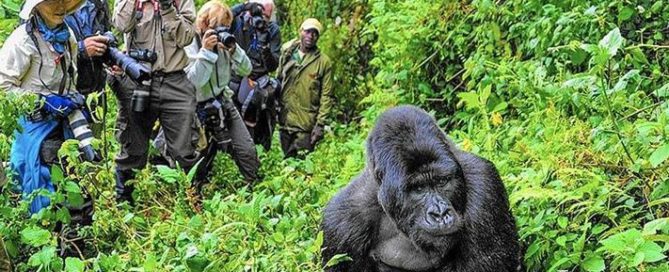 How Long is a Gorilla Trek to See Gorillas in Rwanda?
Gorilla Tracking Uganda
How Long is a Gorilla Trek to See Gorillas in Rwanda?
The amount of time spent hiking/walking to see mountain gorillas in Rwanda is one of the major concerns for tourists who wish to have a Rwanda gorilla trekking safari experience.
Many first time travelers for gorilla trekking in Rwanda always question how long it takes to trek to and from the gorillas as they would want to compare this with their physical ability to accomplish the hike.
There are very few wildlife safari activities as exceptional and memorable as gorilla trekking. Gorilla trekking takes you on an arduous journey typically walking on foot along with other trekkers through Africa's dense rain-forests. Searching for the endangered apes is such an amazing experience that takes an unpredictable amount of time.
In Rwanda, the estimated time spent gorilla trekking to and from is about 2- 4 hours or even more.
This is because the gorillas are part of those in the Virunga massif that live and move within a limited range in the forest unlike those in Uganda's Bwindi forest that is known to trek for longer distances.
The time taken trekking to see the gorillas in Rwanda is also not so long because there are very many routes to trek into the park.
The many routes to the park make it possible to use the shortest trail to the gorilla family allocated. This is why it is possible to have a 1-day gorilla tour in Rwanda or 2 days Rwanda gorilla safari with arrival flights via Kigali International Airport.
However, although the gorilla trekking time is unpredictable and varies depending on where the gorillas spent their previous night, a maximum of 1 hour is what tourists can spend in the presence of the gorilla family.
What makes gorilla trekking time unpredictable? – Gorillas in Rwanda

Mountain gorillas are mainly always on the move and will not be in one specific place to be found by the trekkers. This is because they live in their natural habitat and move through the forest to find their own food.
Mountain gorillas live in families and their typical day starts as early as 6:00 am in the morning as they leave their nests to set off for another location in the forest to find food.
They do not move at a very fast pace since the infants move slowly. Before the trekkers visit the forest, gorilla trackers first visit the forest to search for the gorillas and then after communicate to the park rangers who are bringing in the trekkers. This makes it easy for the group to find the gorillas without wandering around the forest in circles.
How is a gorilla family allocated? – Gorillas in Rwanda

Each morning in the park, trekkers first come together and meet the park rangers for a briefing on don'ts and dos of gorilla trekking. During this time, tourists are allocated gorilla families according to physical fitness and hiking abilities.
In case you have any special requirements be sure to disclose them during briefing such that you are allocated a suitable gorilla family to trek. During group allocation, eight individuals are allocated a single gorilla family and go along with 2 armed rangers for protection.
Wondering how long it takes for a gorilla trek to see gorillas in Rwanda? It will take you an approximate time of about 4 hours or a little more.
Worry not on the capability of hiking because you can hire porters and a sedan chair to help you be moved to and from the gorillas. To book a Rwanda gorilla trekking safari, contact Acacia Safaris for all kinds of bookings.
Most Popular East Africa Gorilla Safari Packages by Gorilla Tracking Uganda
4 Days Uganda Gorilla Safari to Bwindi Impenetrable National park
The 4 Days Uganda Gorilla Safari takes you to Bwindi Impenetrable National Park which is has located in southwestern Uganda with a magnificent verdant swathe across the steep ridges of the Albertine Rift Valley. This ancient rainforest is one of the few in Africa to have flourished and a home to half of the world's endangered population of mountain gorillas.
Apart from Mountain gorilla trekking, the park boasts of 90 mammal species, including 11 primates and prominent bird species. It is a treasure chest of flora and fauna with four gorilla groups currently available to be visited by only six persons per group on a daily basis. However, strict rules have to be followed to prevent behavioral disturbances and transmission of diseases. View More Details
5 Days Gorilla Safari Rwanda Cultural Safari Tour to Volcanoes National park
5 Days Gorilla Safari Rwanda Cultural Safari Tour, customized tour, you will tour the genocide memorials, visit Volcanoes National Park well known as Parc National des Volcans for Mountain gorilla tracking, other wildlife adventure trips, and birds; enjoy You will have a boat cruise at Lake Kivu after which you transfer to Kigali for a Kigali City tour. The safari starts and ends in Kigali International Airport. View More Details
6 Days Bwindi Gorilla Safari Uganda
Your 6 Days Bwindi Gorilla Safari, 6 Days Uganda Gorilla Trekking Safari, and Wildlife Tour is a Gorilla tracking safari to Bwindi Impenetrable Forest National Park and wildlife tour in Queen Elizabeth National Parks
This 6 Days Bwindi Gorilla Safari & Uganda Wildlife Tour offers a chance to have the best Gorilla trekking safari experiences as well as have great game viewing experiences in one of the most popular safari park – Queen Elizabeth National park the Oldest national park in Uganda. View More Details
Best Gorilla Safari Destinations in East Africa – gorilla trekking permit price
Bwindi Impenetrable Forest National Park: Bwindi Impenetrable forest National Park is located in southwestern Uganda in East Africa. The park is part of the Impenetrable Bwindi Forest and is located along the Congo border next to Virunga National Park and on the edge of the western Rift Valley.
The jungle forests cover 331 square kilometers and contain both montane and lowland forest and are accessible only on foot. The park is regarded to be the most biological forest in Africa, largely due to its antiquity and an altitude range of between. More Details
Volcanoes National Park Rwanda: Volcanoes National Park well known as Parc National des Volcans in french is located on the north-western province of Rwanda in a small town known as Musanze.
The park is currently taken as the oldest national park on the African continent and harbors the endangered Mountain Gorillas of Rwanda that is always available for tourists who would love to carry out gorilla tracking tours in Rwanda.
Volcanoes National Park borders with Congo's Virunga National Park and Mgahinga Gorilla National Park. More Details
Mgahinga Gorilla National Park: Mgahinga Gorilla National Park is a complete guide for visitors with everything you need to know about the Park located in Southwest Uganda.
The main aim of Acacia Safari Uganda is to provide free and inspirational advice to help you plan an amazing safari experience in Mgahinga Gorilla National Park.
Whether you are looking at a gorilla tracking tour in the park, hiking the Virunga Volcanoes, golden monkey tracking, you will find all the information to plan your trip. More Details