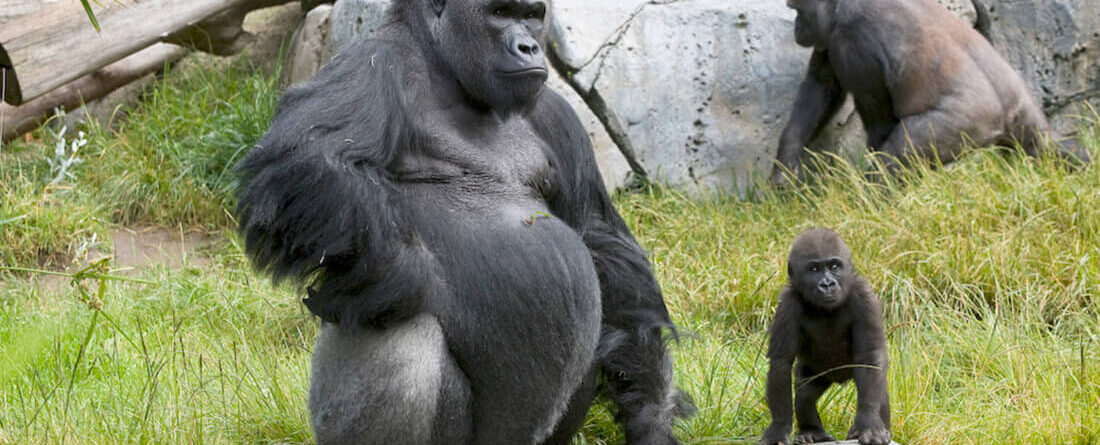 How long do Gorillas Live in Captivity?
Gorilla Tracking Uganda
How long do Gorillas Live in Captivity?
Many travelers have always asked (How long do Gorillas Live in Captivity?) before being allowed for tracking in there habitats of Bwindi Impenetrable national park, Mgahinga gorilla national park and or Volcanoes national park in Rwanda.
Gorillas are the only great apes facing population increase and one may wonder for how long these gentle giants live. Gorilla lifespan is the estimated time in which a gorilla lives from the time of its birth till death.
Gorilla lifespan is one that ranges between a number of years, however, the lifespan of gorillas is dependent on the habitat of the gorilla and this is whether the gorilla is in its natural habitat or in captivity.
Therefore, many always wonder how long gorillas live in captivity/zoos or places that are originally not where they naturally lived or geographically known as their habitat. It is referred to as captivity because they are not in their natural habitat and in most cases taken to the zoos, not at their will.
In captivity or zoos, gorillas are estimated to live up to 50 years. In captivity, silverback gorillas can live up to 52 years. Gorillas live longer in captivity than in the wild and this is because;
In captivity, they receive good care, get proper nutrition and protection from natural threats and diseases. In the wild, they are highly susceptible to disease and other threats and this decreases their lifespan.
Why Mountain Gorillas hardly survive in captivity
All gorilla subspecies have survived in captivity successfully except for the mountain gorillas. This is actually due to unclear reasons but most probably because of their complex diet. An adult male mountain gorilla for instance can eat up to 30 kilograms of vegetation (stems, leaves, fruits, bamboo shoot, pith, roots, moth, and grubs) whereas an adult female can consume up to 18 kilograms.  This is a huge amount of vegetation that is much more available in the jungle
During the 1960s and 70s, several attempts were made to capture live mountain gorillas and start a captive population. Many live babies were captured but none survived in captivity.
Mountain gorillas are vegetarian animals that eat lots of fiber foods. The vegetation is eaten by mountain gorillas mainly include stems, leaves, bamboo shoot, pith, roots, moth, fruits, and grubs. Of their diet, fruits make 25%.
The range of plants or vegetation eaten by gorillas adds up to 250 plant species. Of these plant species, the gorillas are fond of eating high sugar foods and rather low fiber foods that contain tannins with protein and sugar. However, even with the fact that they consume more high sugar foods, this is not based on diet selection but rather food availability.
It is estimated that in a single day, an adult male gorilla can consume up to 30 kilograms of vegetation whereas an adult female can consume up to 18 kilograms.  To attain this amount of vegetation in a day, the gorillas move for almost 3-6 kilometers to forage within the forest.
It is believed that 30% of their time of the day is spent foraging for food. The gorillas spend most of their time on the move to eat on the different plant species.
The high percentage of vegetation needed by the mountain gorillas is best provided by their natural habitat in which they live in.
Other than vegetation, at times mountain gorillas supplement their diet with termites that they get by breaking termite nests to eat larva, ants, and insects.
On rare occasions, mountain gorillas eat ash and soil and this is to regulate their digestive system. The Mountain gorilla diet according to Sea World is by percentage comprised of 86% leaves, 7% roots, 3% flowers, 2% fruit as well as 2% snails, grubs, and ants.
Other reasons why the mountain gorillas are thought not to survive in captivity include stress. The last gorilla that survived in captivity died after gunshots were made in the neighboring areas in Congo.
To track mountain gorillas, one, therefore, has to visit them in their natural habitats which are Bwindi Impenetrable National Park and Mgahinga Gorilla National Park for gorilla tracking in Uganda. Virunga National Park in Congo and Volcanoes National Park in Rwanda.
You May Also Be Interested In The Following Packages – Book Uganda Gorilla Safari Packages at a Discount
3 Day Uganda gorilla trekking safari, – Bwindi Impenetrable National Park

3 Days Uganda Gorilla Trekking Safari is done in Rushaga Bwindi Impenetrable National Park which is located in southwestern Uganda a magnificent verdant swathe across the steep ridges of the Albertine Rift Valley.
This ancient rain-forest is one of the few in Africa to have flourished and home to half of the world's endangered population of mountain gorillas.
Looking into the expressive brown eyes of these giants is surely the most exciting and poignant wildlife encounter Uganda has to offer! Apart from the gorilla trekking Tour, the park boasts of 90 mammal species, including 11 primates and prominent bird species.
It is a treasure chest of flora and fauna with ten gorilla groups currently available to be visited by only eight persons per group on a daily basis. However, strict rules have to be followed to prevent behavioral disturbances and transmission of diseases.
3 Days Bwindi Gorilla Safari Uganda Tour – Mountain Gorillas Endangered

3 Days Bwindi Gorilla Safari Uganda Tour takes you on an Uganda gorilla tour to Uganda gorilla safaris tour destination for gorilla trekking tours while on your Uganda safaris to Bwindi Impenetrable forest park.
3 Days Gorilla Safari Uganda Bwindi Impenetrable Park Tour, Uganda gorilla tour, gorilla safaris, gorilla trekking tours, gorilla safaris, Uganda safaris, gorilla tracking, Gorilla forest camp, where to visit in Africa, attractions in Uganda. Find the gorillas in the marvelous primates.
An encounter with an earth-shaking 350-pound silverback or baby gorilla is an unforgettable experience! view the long-horned Ankole cattle papyrus acacia woodlands and terraced landscape of Kigezi high lands on your way to Bwindi impenetrable national park.