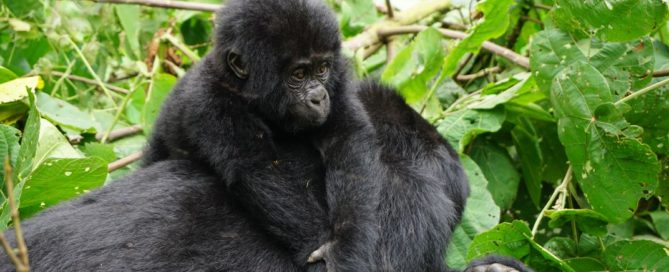 How hard is Gorilla Trekking in Rwanda?
Gorilla Tracking Uganda
How hard/difficult is Gorilla Trekking in Rwanda?
Rwanda is one of the only three countries in the world that are home to mountain gorillas. For comparison purposes, many travelers ask how gorilla trekking in Rwanda can be a difficulty.
Mountain Gorillas in Rwanda live at Volcanoes National Park which is very accessible from the country's capital of Kigali as well as Kigali International Airport. Volcanoes National Park rises to an altitude of about 2,500 meters above sea level.  To see the mountain gorillas therefore individuals have to go trekking or walking through the forest for several hours.
How hard gorilla trekking in Rwanda can entirely be determined by factors like the age of the trekker, physical ability, and what time of the year one goes for Rwanda gorilla tours.
The difficulty of gorilla trekking in Rwanda will probably vary for each individual. Physically fit individuals and hikers will find it very easy to go trekking and return without many hardships.
However, persons who are physically unfit or have difficulties hiking may find it difficult to trek gorillas in Rwanda.
Fortunately for gorilla trekking safaris in Rwanda, each group that goes trekking is allocated a gorilla group that they can trek in accordance to their physical ability.
The group is guided by skilled trackers who help you go through the forest. Each group also treks depending on the speed of the slowest trekker.
It actually isn't hard to trek gorillas in Rwanda, however, this may vary for different trekkers. In case you have any hiking difficulties ensure to inform the guides during briefing such that you are allocated an appropriate group.
Is it possible to trek Gorillas in Rwanda if a Person cannot hike?
Being disabled or having problems with mobility does not mean that you cannot go gorilla trekking especially in Uganda and Rwanda.
You can hire porters and a sedan chair that can be used to carry you to where the gorillas can be found. When you reach the gorillas, you are put down to take pictures and then returned to the trek start point.
Changes in the Rwanda gorilla tracking permit
Each Rwanda gorilla trekking permit has previously been sold at US$ 1500 for all tourists. However, all Rwandan nationals, as well as East African citizens, will pay US$ 200 for a gorilla permit and foreign nationals will pay US$ 500 for each permit.
However, foreign nonresidents will still pay US$ 1500 for a Rwanda gorilla trekking permit. This will be the cost for Rwanda gorilla trekking permits till 31st December 202.
As long as you are willing to have a gorilla trekking experience in Rwanda, worry not just book your trip and hire a sedan chair if need be.
Rwanda has set very high standards for gorilla safaris and can be tailored to any other wildlife safari in East Africa especially for Kenya safaris and Tanzania safaris after experiencing herds of wildlife on tour.
Uganda-Rwanda Gorilla Safari Itineraries – Gorilla Trekking Rwanda difficulty