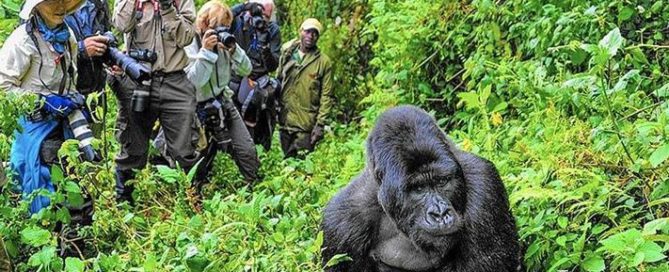 How does trekking help conserve mountain gorillas?
Gorilla Tracking Uganda
How does trekking help conserve mountain gorillas?
Wondering How trekking helps conserve mountain gorillas? Mountain gorillas are a subspecies of the eastern gorilla that only lives in their natural habitat and can only be seen by trekking through their forest habitats. Many people have always wondered whether gorilla trekking is good for the conservation of these endangered giants.
Though many think that gorilla trekking may temper with the natural habitat of the mountain gorillas or their well-being, conservation efforts have proven to be very effective in increasing the population of these species which saw them moved from critically endangered to endangered in the IUCN Red List.
Just like any other wild animals, mountain gorillas are important in the ecosystem and play a very important role. Without these giants, that eat lots of vegetation, the natural balance in the food chain would be disrupted.
Without consumption of large amounts of vegetation by mountain gorillas, this could negatively affect other wildlife in the area, and ultimately the people who depend on that environment for food, water, and other resources. Here is how trekking does help conserve mountain gorillas;
There are guided gorilla trips for tourists on Uganda gorilla safaris, gorilla tours in Rwanda, and gorilla trekking in Congo. There are only 4 national parks that host mountain gorillas and these are Bwindi Impenetrable National Park and Mgahinga Gorilla National Park in Uganda, Volcanoes National Park in Rwanda, and Virunga National Park in Congo.
To trek and see mountain gorillas in any of the national parks, tourists must pay a cost for a gorilla trekking permit. From the gorilla permit, individuals like conservationists, park rangers, and all persons involved in the conservation of mountain gorillas gain a living.
With the cost from the gorilla trekking permits, individuals from the surrounding societies gain and develop from the proceeds. The existence of mountain gorilla's proceeds from tours helps people from neighboring societies gain infrastructures like schools, hospitals, and other developmental properties.
Mountain gorillas have several threats to their livelihood and these include poaching, loss of habitat, and guerilla wars. With gorilla trekking, the forest is kept busy and therefore these threats are lessened. When tourists keep coming to the forest, proceeds from gorilla permits help in their conservation and keeps away poachers. This is the reason why conservation efforts have yielded good results.
A gorilla population that was almost wiped out by poaching and the guerilla war in the Congo has been revived by conservation efforts and now exceeding 1063 individuals. Therefore it is important to note that the safety and increase of the mountain gorilla population are highly connected with conservation.
Mountain gorilla trekking is such a memorable experience and helps conserver the mountain gorillas. Mountain Gorillas are unique wild animals endemic to the two habitats of Bwindi forest and Virunga massif. With Uganda gorilla safaris and gorilla tours in Rwanda becoming popular every other year. In case you want a typical African wildlife safari then what you need is a Tanzania safari or Kenya safari for viewing thousands of wildebeest.
You May Also Be Interested In The Following Packages – How trekking helps conserve mountain gorillas?
3 Day Uganda gorilla trekking safari, – Bwindi Impenetrable National Park

3 Days Uganda Gorilla Trekking Safari is done in Rushaga Bwindi Impenetrable National Park which is located in southwestern Uganda a magnificent verdant swathe across the steep ridges of the Albertine Rift Valley.
This ancient rain-forest is one of the few in Africa to have flourished and home to half of the world's endangered population of mountain gorillas.
Looking into the expressive brown eyes of these giants is surely the most exciting and poignant wildlife encounter Uganda has to offer! Apart from the gorilla trekking Tour, the park boasts of 90 mammal species, including 11 primates and prominent bird species.
It is a treasure chest of flora and fauna with ten gorilla groups currently available to be visited by only eight persons per group on a daily basis. However, strict rules have to be followed to prevent behavioral disturbances and transmission of diseases.
3 Days Bwindi Gorilla Safari Uganda Tour – Mountain Gorillas Endangered

3 Days Bwindi Gorilla Safari Uganda Tour takes you on an Uganda gorilla tour to Uganda gorilla safaris tour destination for gorilla trekking tours while on your Uganda safaris to Bwindi Impenetrable forest park.
3 Days Gorilla Safari Uganda Bwindi Impenetrable Park Tour, Uganda gorilla tour, gorilla safaris, gorilla trekking tours, gorilla safaris, Uganda safaris, gorilla tracking, Gorilla forest camp, where to visit in Africa, attractions in Uganda. Find the gorillas in the marvelous primates.
An encounter with an earth-shaking 350-pound silverback or baby gorilla is an unforgettable experience! view the long-horned Ankole cattle papyrus acacia woodlands and terraced landscape of Kigezi high lands on your way to Bwindi impenetrable national park.