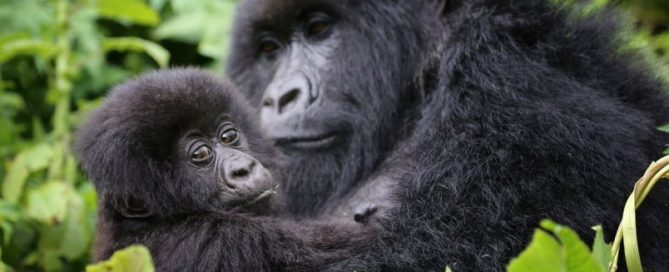 How do Mountain Gorillas behave in the wild?
Gorilla Tracking Uganda
How do Mountain Gorillas behave in the wild?
Many travelers as How do Mountain Gorillas behave in the wild? today you got the answer here at gorilla tracking Uganda. Mountain gorillas have commonly been known to survive only in the wild which are their natural habitats in Bwindi forest and Virunga massif.
While in their natural habitats, how do the mountain gorillas behave on their day to day livelihood? There are very many questions related to mountain gorillas that explain a lot about what they do in the jungle from feeding, reproduction, social life ad much more.
Gorillas are non-territorial and live in groups called troops or popularly referred to as families. Each family consists of several individuals from about 4 and more including silverbacks, females, and infants. The group is usually led by the dominant silverback that has exclusive breeding rights to the females.
In their social structure, the adolescent females can move away from the group when they are about 8 years of age to get mating partners in other groups. The first troop in which the female gives birth usually becomes their permanent family and the female's status or rank is determined by the order in which she was recruited into the troop.
The babies of those that came early to the group always stay very close to the silverback rather than those that come late to the troop.  This is why the females always join lone silverbacks or newly formed troop to make sure they have a high ranking position.
Adolescent males usually leave the troop when they want to start their own troop and are the lead. He will usually remain solitary until he forms his own troop. It takes the male some time to get a number of females to join and form a troop and this will mostly depend on the strength of the silverback. Females are usually attracted to strong silverbacks.
What do Mountain gorillas eat?
Mountain gorillas are vegetarian animals that eat vegetables. These mainly include stems, leaves, bamboo shoots, pith, roots, moths, fruits, and grubs. Of their diet, fruits make 25%. Aside from vegetation, at times mountain gorillas supplement their diet with termites that they get by breaking termite nests to eat larva, ants, and insects.
With the consumption of vegetables, the range of plants or vegetation eaten by gorillas adds up to 250 plant species. On rare occasions, mountain gorillas eat ash and soil and this is to regulate their digestive system. The Mountain gorilla diet according to Sea World is by percentage comprised of 86% leaves, 7% roots, 3% flowers, 2% fruit as well as 2% snails, grubs, and ants.
 It is believed that 30% of their time of the day is spent foraging for food. The gorillas spend most of their time on the move to eat on the different plant species. The movement of mountain gorillas in search of food is what calls for gorilla trekking safaris in Uganda because you move as the gorillas move until you get to meet them.
How do Gorillas Communicate?
Wondering how gorillas communicate? Gorillas actually do communicate just as it is in humans and they do this through a variety of methods. These include body postures, facial expressions, and vocalizations. Gorillas are social and live in groups or families where they communicate with each other depending on what they want to express.
How Do Gorillas Protect Themselves from Danger?
Charging towards the enemy: Charging is the reaction made by male silverback gorillas when they feel threatened. When they charge they make sounds that portray their anger and with their teeth bared. When the person who is perceived as a threat does not make any reaction, then the gorilla will stop and move back, however, if they threaten too then the gorilla can attack.
Beating on the chest: As the gorillas charge and run towards the enemy, they will also beat their chest. While coming towards the enemy the silverback gorilla beats its chest and screams or breaks vegetation. This portrays how angry it is and in many cases, the enemy will be scared away.
Pick a stick: In some cases, gorillas go to an extent of picking up and swinging a stick at the threat or in the air. If the enemy continues to show an attack then the gorilla will also attack though it's never its intention. The threat is just meant to scare away the enemy since in nature they are much stronger than humans.
Moving away from the enemy: For the female gorillas, usually do not involve in fights and therefore in many cases, they will just move away from the enemy. They run to silverback (older males) for rescue.
Staying in groups: The gorilla social life involves moving and staying in groups or families. The size of the family makes it hard for the enemy to attack since the large number scares. In each group are silverback gorillas that help protect the group.
Mountain gorillas are known to live in their natural habitats and for Uganda gorilla safaris they are found in Bwindi Impenetrable National Park as well as Mgahinga Gorilla National Park. Virunga National Park and Volcanoes National Park inhabit the mountain gorillas in Congo and Rwanda respectively.
Searches related to How do Mountain Gorillas behave in the wild?
why are mountain gorillas endangered
how many mountain gorillas are left
interesting facts about mountain gorillas
why are mountain gorillas important